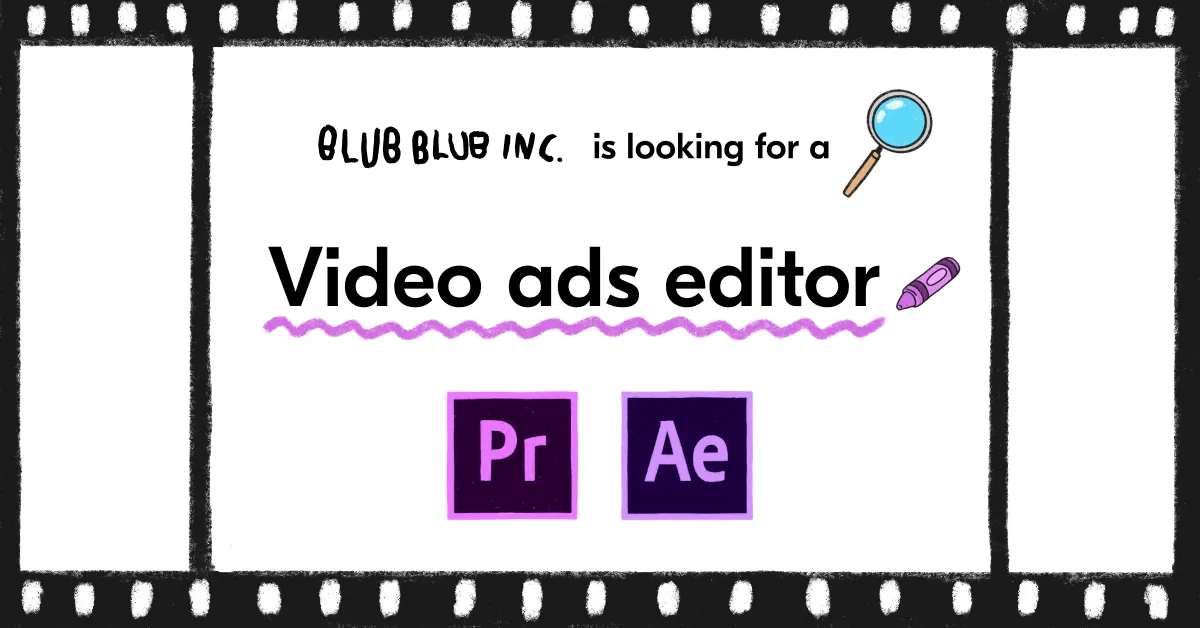 Video Ads Editor
Blub Blub?
Is the company behind Speech Blubs, the world leading speech & language development app for kids. We have already helped over 5 million kids – and this is just the beginning! We intend to become the leading player in the early childhood education sector, with the offering of products that will help our users from saying the first words to having all the skills necessary to have a head start in school.
Do you love diving into a sea of footage and emerging with a clear vision? If you're part imaginative storyteller and part technically-proficient editor, who brings an ambitious, efficient, and inclusive spirit to all you do, we'd love to meet you!
Since we are rapidly growing, we are on a lookout for a Video Ads Editor to  join our team and help us reach new highs.


Life at Blub Blub:
🥐 Office Breakfast every Friday morning.
☕️ Coffee, tea, fruits and snacks always available in the office.
🖥 All quality work equipment and software provided (MacBook Pro 14").
🤩 Young, agile and ambitious team with the vision of making an impact.
🏖 Two company retreats every year.
👨‍👨‍👧‍👧 Team building events (carting, paintball, Woop, etc.), and office events (Christmas party, pumpkin carving, picnics, terrace pizza making, etc.).
🍏 Additional Health Insurance covered by the company.
🍻 In addition to vacation everyone gets 3 hangover days per year for… well, curing unexpected mid-week hangovers!
📝 Full-time contract with 6-month probationary period.
💳 Structured pay raise plan based on personal bi-annual and annual goals.
📚 Personal mentorship, opportunities to visit conferences, take online technical courses and participate in internal development workshops.
📈 Competitive salary, annual bonus and stock option.
Specific responsibilities for this role:
Create ads, short-form videos and animated banners to be used in all kinds of marketing activities
Edit UGC to upgrade communication and performance aspect of it
Communicate through Fiver and with UGC team on what videos or sounds are needed
Stay up to date with current trends specific to each social media platform
Collaborate with other graphic designers, copywriters, PPC team, and other teams to establish the vision of the project, come up with creative concepts, and analyse tradeoffs between visual appeal and performance needs.
Essential skills and qualifications:
Expertise in Adobe Premiere and After Effects
Proven motion graphics and video editing experience
Experience producing videos and animation for social media
The ability to write and produce short-form promotional videos from start to finish
Familiarity with social media platforms such as Instagram, Facebook, and TikTok
A serious dedication to learning and development as a career
Self-driven, organised with a take ownership attitude
Willingness to put in the extra effort as needed
If you want to test our app, let us know and we are happy to send you a promo code! 
Lastly, even if you think you don't tick all the boxes, don't worry – we'd still love to hear from you! Nobody checks every box, and we are looking for someone excited to join the team!