Parental consent: Participation in Blub Blub playtesting studies
Before getting on board with our Playtesting program, we need to make sure that you agree to all the legal bits. Please read carefully and fill out the Playtesting Parental Consent and Confidentiality Undertaking below. If you have any questions at all, please don't hesitate to contact us at hi@blubblub.org.
1. Parental Consent. I am the parent or legal guardian of the child listed on the Playtesting Submission Form (hereinafter referred to as "my Child") who may be participating in the Blub Blub playtesting program (hereinafter referred to as "Blub Blub Playtesting") organized by Blub Blub Inc., 3500 South DuPont Highway, Suite AT-101, Dover, County of Kent, 19901 Delaware, USA (hereinafter referred to as "Blub Blub"). I have read Blub Blub's Privacy Policy and agree, in my name and in my Child's name to Blub Blub's collection of personal information regarding our use of any and all Blub Blub applications (hereinafter referred to as "App" or "Apps") I test. I accept that this consent will be valid for the duration of my participation in the Blub Blub Playtesting and will therefore cover each and every playtest in which I choose to participate.
2. Eligibility and Other Conditions. I confirm that I am at least the age of majority under applicable law and that I am the parent or legal guardian of my Child; that, except for Blub Blub employees, I am not an employee or contractual worker of a video or computer game developer or publisher; that my Child will personally carry out the testing with my assistance.
3. Confidentiality. I understand that by participating in the Blub Blub Playtesting, I will have or may have access to Apps or certain features of Apps that are not yet public or released or to Blub Blub's confidential information. I confirm that I will (i) not copy or disassemble the Apps; (ii) prior to launch, not disclose, use, or otherwise make available to others the Apps, features, or any confidential information disclosed to me during my participation in the Blub Blub Playtesting; and (iii) not remove any copyright notice, trademark notice and/or any other proprietary label set forth on or contained within the App.
4. Intellectual Property. I agree to participate in Blub Blub Playtesting voluntarily, and I understand I will receive no compensation whatsoever. Furthermore, I confirm that any rights in any and all ideas and/or feedback I submit to Blub Blub shall be automatically assigned in full to Blub Blub and without any compensation from Blub Blub. I understand that Blub Blub is not obligated to release the App, any features, use my feedback, or (if I have consented to it below) include the name of my Child in the credits.
5. Miscellaneous. I understand that Blub Blub may, without notice, discontinue the Blub Blub Playtesting and/or a specific playtest at any time for any reason. I understand that I have the RIGHT TO TERMINATE MY PARTICIPATION IN THE BLUB BLUB PLAYTESTING AT ANY TIME by sending an email to hi@blubblub.org. Section 1, 3, and 4 herein shall survive any termination of this Parental Consent.I understand that each time I participate in a Blub Blub Playtesting, I will be deemed to have accepted the terms and conditions of this Parental Consent.
Link to our privacy policy: https://speechblubs.com/legal/privacy-policy-for-applications/
Parental consent: Permission to use image, video, and/or voice of child
Next to playtesting, we invite you and your little brilliant learner to become the face of Speech Blubs and share with other parents your kid's experience with our apps and their favorite features! You could soon see your kid featured in our adverts and on our social media! Sounds cool, right? (This persmission is not obligatory to become a playtester.)
I am the parent or legal guardian of the child listed on the Playtesting Submission Form (hereinafter referred to as "my Child"). I hereby grant Blub Blub Inc., 3500 South DuPont Highway, Suite AT-101, Dover, County of Kent, 19901 Delaware, USA (hereinafter referred to as "Blub Blub") the absolute right and permission to use photographs, video and/or audio recordings of my Child, or in which my Child may be included in whole or in part, or reproductions thereof in color or otherwise for any lawful purpose whatsoever, including but not limited to publicity and promotional materials, advertising, websites, digital communications materials, and social media channels.
I have read Blub Blub's Privacy Policy and agree, in my name and in my Child's name to Blub Blub's collection of personal information regarding our use of any and all Blub Blub applications (hereinafter referred to as "App" or "Apps").
I hereby waive any right that I may have to inspect and/or approve the finished product or the copy that may be used in connection therewith, wherein my Child's likeness appears, or the use to which it may be applied. Furthermore, I understand that items might not appear in exactly the form in which they have been submitted and not every item for which permission is granted will be used.
I hereby release, discharge, and agree to indemnify and hold harmless Blub Blub from all claims, demands, and causes of action that I or my Child have or may have because of this permission or use of my Child's photographic portraits, pictures, digital images or videotapes, including any liability by virtue of any blurring, distortion, alteration, optical illusion, or use in composite form, whether intentional or otherwise, that may occur or be produced in the taking of said images or videotapes, or in processing tending towards the completion of the finished product, including publication on the internet, in brochures, or any other advertisements or promotional materials.
This permission will continue until I revoke the permission in writing. I understand that I have the RIGHT TO WITHDRAW THIS PERMISSION AT ANY TIME by sending an email to hi@blubblub.org. Where permission is withdrawn, every effort will be made to remove relevant media from distribution, however, this may not be possible in some situations and I understand that in such cases photographs, video and/or audio recordings of my Child may continue to appear in publications ALREADY IN CIRCULATION.
Link to our privacy policy: https://speechblubs.com/legal/privacy-policy-for-applications/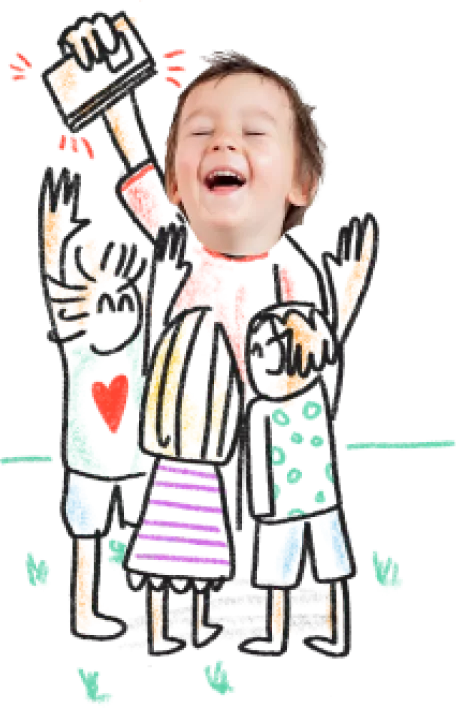 Thank you for applying!
You have officially become a Blub Blub Playtester! The confirmation email is on its way and you can expect the first instructions from our Playtesting team very soon.
Happy playtesting!
Speech Blubs
Speech Blubs is a speech-boosting app approved by professionals with over 4 million downloads!