A Guide to Gardening With Kids
Feb 4, 2022 During any season of the year, getting your kids out into the garden is one of the best things you can possibly do.
Time in nature teaches kids all kinds of wonderful lessons about science and biology, gets them interested in healthy eating, boosts mental health and well-being, and even helps to strengthen the immune system. Not quite sure where to start? Try these fun ideas for gardening with kids!
Create a Herb Garden
Herb gardens are a wonderful first gardening project because you can harvest produce almost immediately and adapt the size of the garden to your space. In addition, herb gardens are extremely sensory — each plant has a distinctive scent and texture that makes it easier to recognize and name.
Boost Your Child's Speech Development!
Improve language & communication skills with fun learning!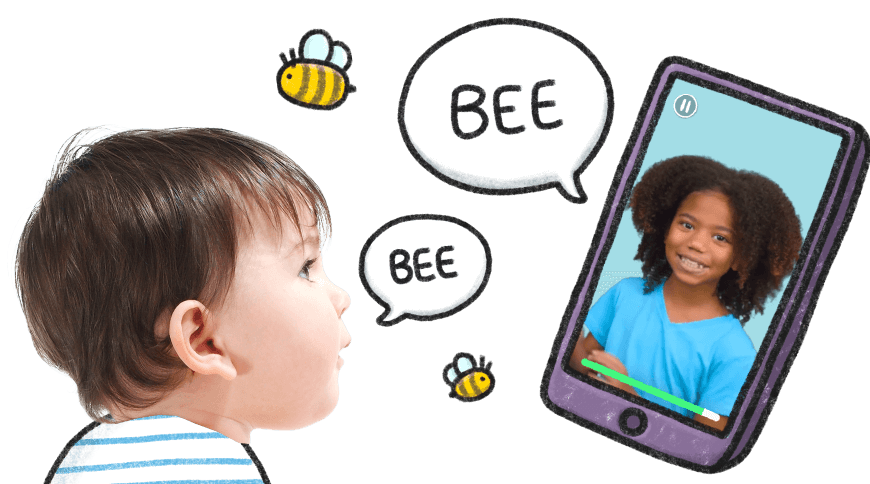 To begin, you'll need to find the sunniest spot in your kitchen, balcony, or garden. Most herbs do well with 4-8 hours of sun per day and will need well-draining soil that's watered regularly. Decide which herbs you will order beforehand based on the herbs you're most likely to use. Here is a list of common culinary and medicinal herbs:
Parsley
Oregano
Basil
Peppermint
Spearmint
Lavender
Rosemary
Chives
Dill
Chamomile
Lemongrass
After you purchase your chosen potted plants, plant each one carefully in its new location, taking care to follow instructions about spacing. Mint varieties will need to be planted in a pot to prevent them from taking over your garden. You can then create fun labels for your plants using the ideas in the next section!
Make DIY Garden Labels
Making labels for the garden encourages fine motor skills, reading, writing, and creativity and is something you can do on a rainy day. These labels will help you remember exactly what you planted and where, which helps tremendously when it comes to keeping the plants alive!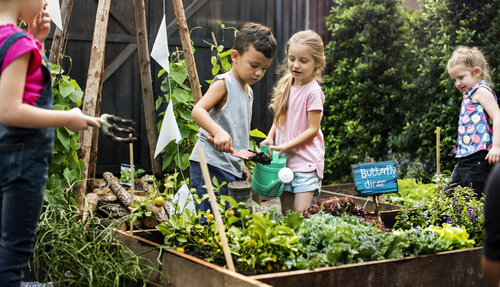 For your garden markers, consider the following weatherproof and/or biodegradable materials:
Wooden spoons from a local dollar store
Garden twigs
Popsicle sticks glued together
Plastic letter beads threaded onto wire
Rectangles cut from plastic containers
Once you've gathered your materials, write the name of each plant with paint or a permanent marker with a picture of the plant or crop if there's space. Plant your markers into the garden and invite some friends over for a professional tour led by the kids!
Grow Fruit and Vegetable Seedlings
Watching little seeds sprout into seedlings is another gardening activity you can try that's sure to get the kids excited. It's a cheap (even free) way to grow your own produce, too! Begin by collecting the seeds from the fruits and vegetables you usually eat. Keep in mind the final size of the produce — citrus trees can grow very large. Leave these seeds to dry out in the sun and store them in labeled packets with the date. You're now ready to start growing your own seedlings!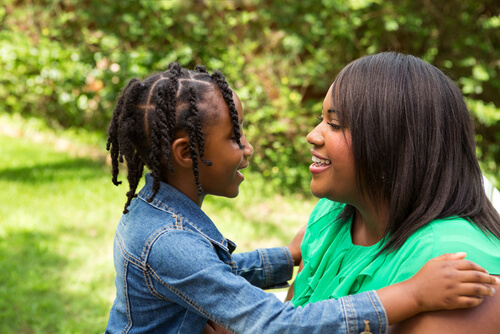 For a seed tray, you can use a commercial tray, eggshells, egg cartons, or plastic snack tubs (i.e. lunchbox yogurt tubs). You'll need a potting mix or very mature compost to plant your seeds in and a spray bottle with water to make sure your seedlings are nice and moist. If you're starting seeds in the colder season, then create a miniature greenhouse with a clear plastic lid and place the seedlings in the sun. Once your seedlings are ready to plant, be sure to find out where and when to plant each seedling for the best chance of survival and fruit.
Other Fun Gardening Activities for Kids
There are so many more possibilities for garden-based activities than what we covered above. Whether you have toddlers or teenagers, the learning opportunities present in the garden are only limited by the imagination (or by how much space you have available!). Here are some additional ideas for summer activities to do with kids in the garden:
Collect garden snails and have a snail race.
Observe and catalog the critters in the garden.
Make an insect hotel with hollowed-out twigs.
Make a birdbath and nesting boxes.
Create a fairy garden in a broken ceramic pot.
Create a compost pile, bin, or tumbler.
Apply compost and mulch to the garden beds.
Make new garden beds out of wood.
Water the garden.
Weed the garden.
Prune bushes and trees.
Create fresh flower bouquets.
Make dried flower arrangements.
Make lavender pillows.
Make DIY herbal tea.
Make garden-based crafts using leaves, twigs, and blooms.
Make a frog bog or fish pond.
Create an outdoor setting with a table and chairs.
Paint garden ornaments to decorate your masterpiece.
To support the activities you try as a family, you can also read books about gardening and even make some gardening books yourselves! Above all, keep the focus on getting your kids excited about gardening. Remember that (multiple) failures lead to perseverance and opportunities for real-world problem-solving. If you fail at first, try again and watch your kids (and your garden) grow!
Have a question for our Speech Therapists?