Down Syndrome: The First Year
Feb 4, 2022 Whether you are given a prenatal diagnosis or discover at birth that your little bundle of love has an extra chromosome, there usually arises the question, "How is this going to change our lives?"
When we discovered our son had Down Syndrome at birth, we had a discussion with the wonderful nurses how every newborn brings their unique challenges and struggles. Infants with Down syndrome tend to have less muscle tone, which makes those first year milestones a bit trickier to master.
However, we soon learned about all of the many available resources to help children with Down syndrome, and felt lucky we had a bit of a road map to help our son develop and stay healthy. Here is a broad overview of what you can expect in the first year of your baby's life.
Keep in mind, this post is a very broad outline of the first year. Each Down syndrome kid has his or her unique developmental timeline, health concerns, or no health concerns at all. Finding doctors you trust and following their advice from your discussions is always recommended to meet the individual needs of your child.
Speech Blubs and Down Syndrome
Speech Blubs will help you as a complementary speech activity once your child starts speaking. Every child is unique, but here's a story about Daniel who made breakthrough:
Recommended article
Start your free trial today and explore fun activities your little one will adore!
Boost Your Child's Speech Development!
Improve language & communication skills with fun learning!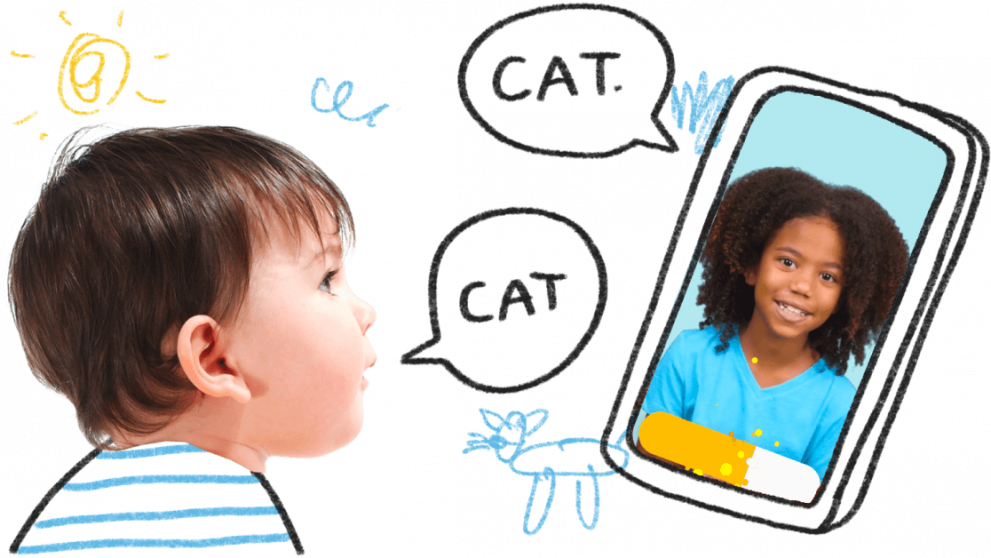 Appointments
Complications can occur in babies with an extra chromosome, there are a lot of specialists who want to make sure your baby is healthy in that first year of life. Usually, at birth, doctors check their heart. Then a cardiologist follows up at 4-6 weeks to make sure there are no heart defects or abnormalities that occur in about 50% of babies with Down syndrome.
Due to their increased chance of hearing loss and vision issues, doctors recommend that hearing and vision is checked at around 6-12 months, and followed by annual checks.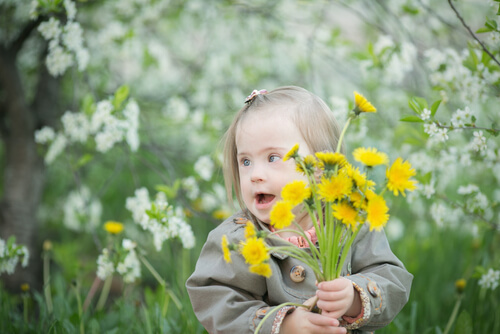 Some parents find it helpful to meet with a geneticist to discuss the type of Down syndrome your child has, as well as what that means for your family in the long run. We did not find this appointment that beneficial, but we know many who have gleaned helpful information from their visit.
If you or your child's pediatrician are concerned about Sleep Apnea (which is common in individuals with Down Syndrome due to low muscle tone, smaller airways, larger tongues, tonsils, and adenoids), arrange appointments with a pulmonologist and ENT to perform a sleep study.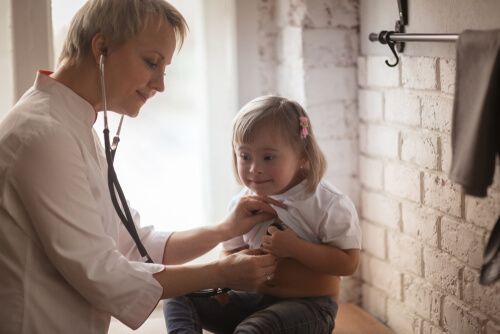 Doctors also recommend regular well-child visits with annual blood-work to check the thyroid and any abnormal cell activity.
It seems like a lot, especially when you are in the thick of it. But, take heart that the first year of what seems like never-ending appointments is the busiest. In most cases, after a year, children with Down syndrome usually only have a couple of extra appointments outside of their well-child visit.
Early Intervention
Due to the extra squishiness caused by an extra chromosome, many highly recommend getting 'Early Intervention,' as soon as possible. Early Intervention is a team of therapists (Speech, Occupational, Physical, and Developmental) that work with you and your child from 0-3 years to help them reach their Down syndrome milestones. They usually come to your house, perform an assessment, and then set up times to come work with your family according to the needs of your child. Most are little to no cost.
We found Early Intervention extremely helpful in keeping us on top of what we should be working on, and how to help him strengthen his muscles, make neurological connections through simple games or activities, and to better understand how he was developing.
We became discouraged at times to see babies born around the same time as our little one reach milestones with ease. Whenever we got into this funk, we looked at our son and all the progress he had made, celebrated those moments, and moved forward. As with any child, comparison is the thief of enjoying the journey.
Check out this Eva's amazing first year journey
Local Down Syndrome Community
Usually, within months of having a Downs child, someone from the local Down syndrome community will reach out to you. If they don't, I highly recommend reaching out to them. Connecting with others who "Get it," can be so helpful.
As with all communities, there will be some families you click with, and others you don't. The point is to give you the opportunity to meet families with loved ones who have Down syndrome to know you have support whenever you need it. Many local organizations have get-togethers, classes on Down syndrome development in general, schooling, financial planning for your child, and many other helpful resources.
#The Lucky Few
We should remember how truly we are lucky to have these children in our lives, and to celebrate those everyday moments and milestones with them.
Although the first year can seem overwhelming as you adjust to many facets of having a Downs child, take time to enjoy that little baby. I can't tell you how many times I got caught up in the worry. Then I just snuggled our son and felt all the worry melt away. There is a common tag that many in the Down Syndrome Community use, #TheLuckyFew.
Have a question for our Speech Therapists?