Will Quitting TV Shows Help My Child Talk?
Jan 15, 2022 This is a very interesting question because it relates to screen time, electronics, and how much is too much.
Research shows conflicting reports on whether or not screen time impacts speech and language, but numbers are leaning towards, yes.
However, please note that children diagnosed with speech and language delays are also put in front of tablets, TVs, and cell phones for a significantly longer amount of time than kids who are not diagnosed with any delays.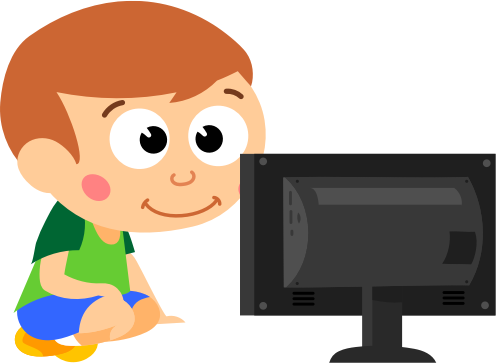 Smart Screen Time with Speech Blubs
Speech Blubs App is a smart screen time activity that encourages conversation with your child. It also encourages speech imitation! To ensure more quality screen time, consider holding the device for your child and facing them during the speech practice.
Boost Your Child's Speech Development!
Improve language & communication skills with fun learning!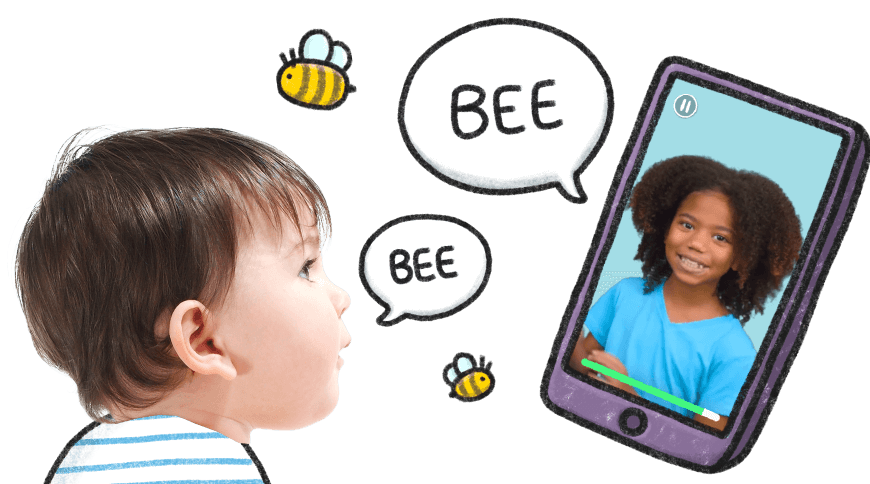 What Research Has to Say about Screen Time?
A 2017 study by Dr. Catherine Birkin found that by the 18-month checkup, 20% of the children reported daily average handheld device use of 28 minutes, according to their parents.
Based on a screening tool for language delay, researchers found that the more handheld screen time a child's parent reported, the more likely the child was to have delays in expressive speech.
For each 30-minute increase in handheld screen time, researchers found a 49% increased risk of expressive speech delay.
There was no apparent link between handheld device screen time and other communications delays, such as social interactions, body language, or gestures. This is the first study to report a link between handheld devices and expressive language delay.
SLP Tips for Screen Time
I have two children; a daughter who is 3 and a son who is 7 months. My son (and daughter at his age) NEVER gets screen time. My daughter loves movies and will occasionally watch YouTube when my in-laws are babysitting her. What are my rules for the iPad and YouTube? No more than 10 minutes and then she has to read some books.
I also communicate with her while she is on the iPad so that she doesn't become a zombie. When she watches movies on TV, I also ask her questions about what she is watching and limit that to one movie a day, usually after bath time. My daughter is "typical" and has no speech or language delays.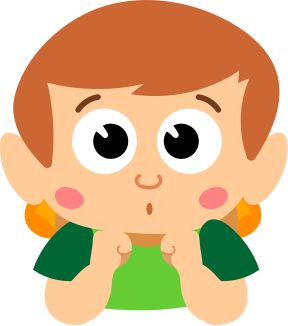 The American Academy of Pediatrics Guidelines for Screen Time
For children younger than 18 months, avoid using screen media other than video chatting. Parents should choose high-quality programming and watch it with them to help them understand.
For children ages: 2 to 5 years, limit screen use to 1 hour per day of high-quality programs. Parents should still co-view media with children to help them understand what they are seeing and apply it to the world around them.
For children ages 6 and older, place consistent limits on the time spent using media, and the types of media, and make sure media does not take the place of adequate sleep, physical activity, and other behaviors essential to health.
Designate media-free times together, such as dinner or driving, as well as media-free locations at home, such as bedrooms.
Have ongoing communication about online citizenship and safety, including treating others with respect on and offline (for children who are older).
In 3 Questions to Ask When Choosing Screen Time Activities for Your Toddler, we suggest that you ask the following:
Can I do this screen time activity WITH my child?
Can the activity spark language and conversation?
Do I hear my child communicating and playing with language during this activity?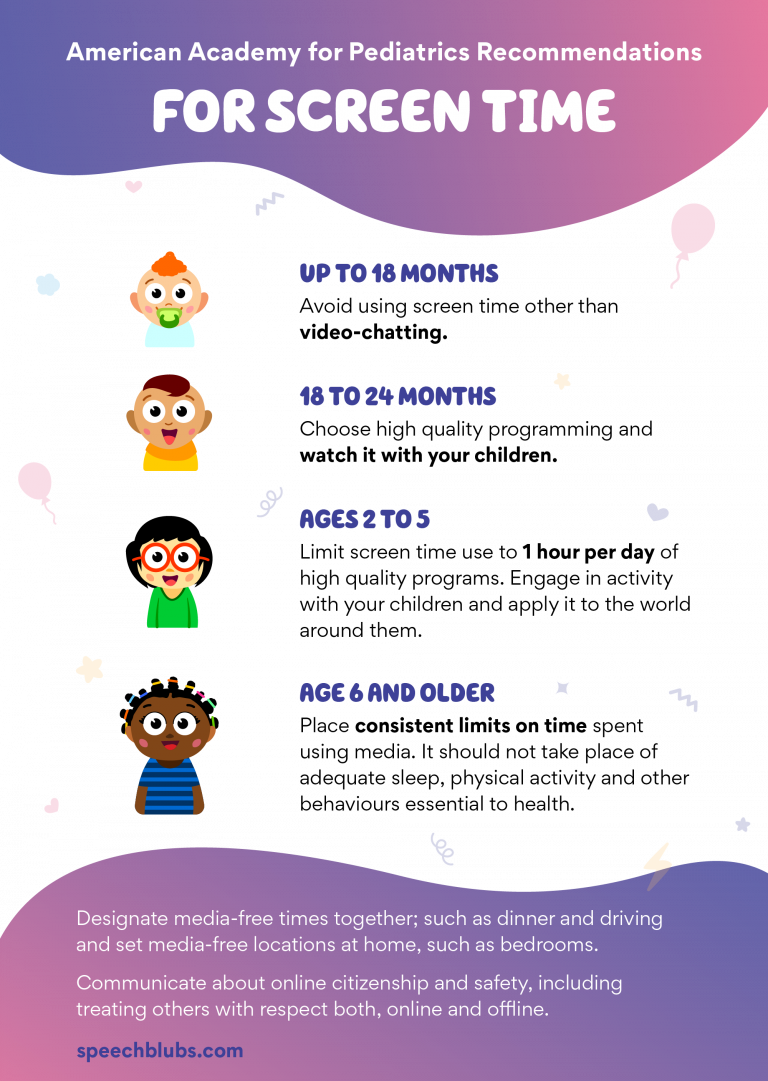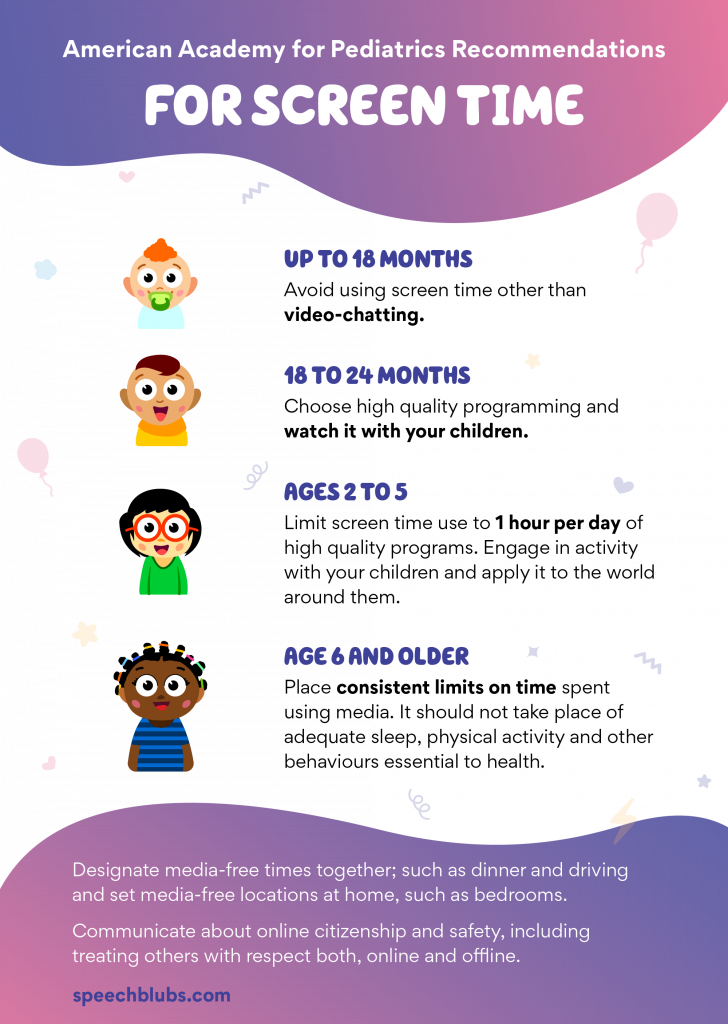 Have a question for our Speech Therapists?