Teach Animal Sound Activities for Toddlers
Feb 11, 2022 It is such a joyous time when your little one starts to mimic sounds and talk. Some of the very first sounds kids love to make are animal sounds. They are easy to do and lots of fun.
Typically, simple words like "Mama" and "Dada" are the huge milestones that excite many parents.
But, before true language begins children learn and practice through phonics such as animal sounds. These can actually be a building block for their language and speech development.
When Do Kids Begin Learning Animal Sounds?
At around 6 to 11 months most kids begin their first sounds and words.
Many children enjoy singing simple songs with sounds and words they can repeat. The Speech Blubs app has a fun section to repeat sounds and words from the animal kingdom that will help your little one produce their first sounds!
Boost Your Child's Speech Development!
Improve language & communication skills with fun learning!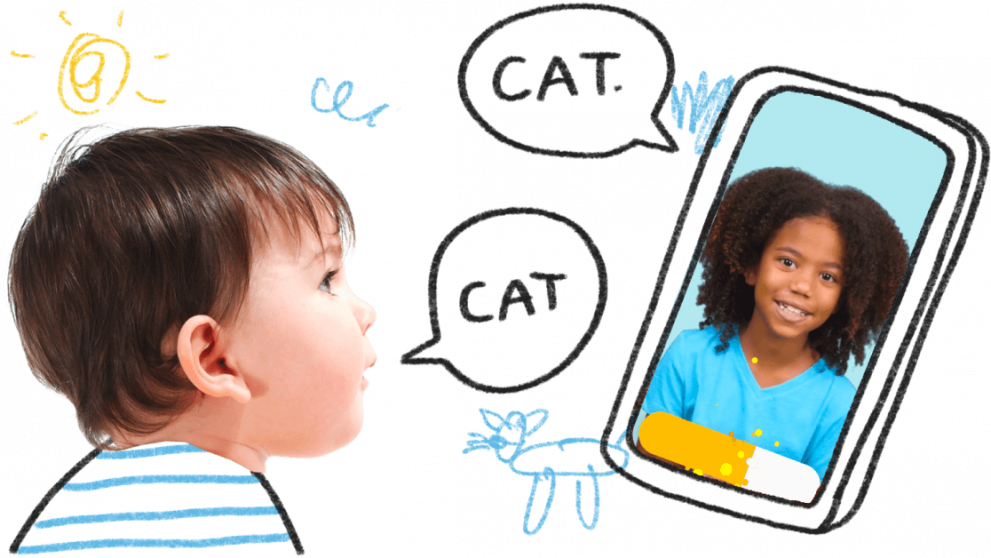 When my kids were little, we loved to sing "Old McDonald had a farm." Switching out each verse with a new animal. It's the perfect intro song to learn animal sounds. Kids learn through repetition and "Old McDonald" is perfect for just that. Not to mention the melody and words are simple for a child to learn, which boosts their confidence.
Read more about child development and animal noises:
Recommended article
Fun Animal Games
Playing fun games with my kids helped me teach them animal sounds in an engaging way. It was learning through play.
For example, my two-year-old loves playing matching games. There is also a version on her tablet that she likes. The goal of the matching game is to find a match. But it doubles as a game with sound learning and memory exercise. When we flip over each animal card, I ask her to say the sound the animal makes. Together we say the sounds of new animals she doesn't know.
In the online version, the game on her tablet will make the sound once she clicks on the card to be flipped. This version of the game comes preinstalled on the Nabi Jr. tablet which we love.
You can also purchase matching card games on Amazon, or even free printable versions you can find online.
Another fun activity is to play "farm" or "jungle." Using plastic animal figurines, we use our imagination and create a farm, zoo, or jungle.
My kiddos love playing this and making the sounds along the way. These simple, yet effective games help children form words.
Activities for Learning Animal Sounds
I take my kids out on daily adventures as a part of our learning time. Some of those places include nature centers, zoos/petting zoos, forests, farms, and children's gardens. My kids delight in going to these places. While there we visit animals and listen to the sounds they make.
Typically, as we view each animal, I ask them the sound this animal makes and ask them to repeat it. Seeing the animals in real life and trying their sounds is even cooler for kids. They make the most of practicing and sounding out animal sounds. It also helps them understand more about animals.
Another fun and free activity we do is go to the pet stores. The larger pet stores or specialty stores often have animals that you can touch.
We go to see the fish, cats, dogs, guinea pigs, and birds. It just is another opportunity for the kids to practice and see animals. This is especially helpful if the weather is not so nice.
Visiting all these places is also the perfect introduction to the animal kingdom.
Reading is Key
If you are new to teaching your kids about the animal kingdom or don't know a lot about animals. You can always start with a book.
My kids and I love reading books together. Reading books to your kids can help with literacy. But choosing books about animals will help teach kids a lot about the animal world around them.
Fun books filled with pictures and colors of where animals live give kids visuals of the entire animal kingdom. Also, include rainforest to farm books. These create picture scenes for kids.
Here are some of our favorite animal books:
The Very Hungry Caterpillar
First 100 Animals Board book
The Savannah – Usborne Books
Baby's First Farm Animals
In addition to regular books, we like to read National Geographic's magazine. Their magazines are loaded with activities.
Cartoons
Another way to get kids to understand the animal kingdom is to watch a few shows/cartoons.
One of the family favorites is Wild Krats. This show is based on the adventures of two brothers who love animals.
It switches between real life into a cartoon/animation. Giving the kids a deeper look into the superpowers of animals. For example, how fast a cheetah can run.
Crafts to Learn about Animal Sounds and Facts
Last but not least, getting crafty is another awesome way to teach your kids about animals and sounds.
Let me explain. You can build or paint a bird feeder. Build a birdbath or create a squirrel picnic table.
Simple crafts to bring nature to your door and are a great way to let kids observe animals. As they watch animals, they can hear the sounds they make. See their colors and natural habitats right outside their door.
My kids love when we buy our butterfly-making kit too. This kit is a neat way to watch and grow your own caterpillar in your own home. And then the kids get to release it.
Even More Activities
Teaching animal sounds is a foundation for speaking and phonics. And there are many simple webpages about animal sounds for kids online that can help.
Owning your pet is always fun and/or visiting a family member who has one.
You can also try "guess the animal sound" interactive games, focusing on the sounds animals create as a part of the building blocks of speech. Form sounds when babies and toddlers are younger, and help them form words as they develop their speech. Practice saying the sounds in front of your child so they can see your mouth and how it forms.
Have your child feel the vibration of your chest as you speak or whisper the word in their ear. The more engaging you make it, the greater chance you give them.
Have a question for our Speech Therapists?