Blub Talks: How To Teach Speech for Toddlers with Kjirsten Broughton, M.S. CCC-SLP
Jan 28, 2022 In this episode of Blub Talks, we present an interesting discussion with Kjirsten Broughton, CCC-SLP, a licensed SLP in the State of Nevada who holds a Certificate of Clinical Competence (CCC) through the American Speech and Hearing Association (ASHA).
Kjirsten works at her own private practice, and is an expert is speech therapy for toddlers. She is also a certified Hanen provider and trained in PROMPT, the Lee Silverman Voice Treatment (LSVT-LOUD), and PECS, the Picture Exchange Communication System that allows people with little or no communication ability to communicate using pictures. Kjirsten frequently sees kids to help with Autism, Delayed Speech, Language and Speech Problems, and Speech Disorders and Impediments. If you live in Nevada and are interested in contacting Kjirsten, she also provides online teletherapy sessions.
Listen to Blub Talks Podcast
Watch the Video Podcast
The discussion began with a "catch-up" for our viewers, talking about Kjirsten's background and accomplishments in the field of speech therapy for toddlers and early intervention.
Our host and teaching sensei Robert M. led our guest through topics relating to getting your child evaluated vs. the "wait-and-see" approach, actually getting your child evaluated and how that works, how teletherapy works vs. face-to-face sessions, and coaching parents as a supplemental activity in a child speech therapy process.
Robert began the interview by asking how parents can tell the difference between diagnosing a child who is on the spectrum, and those who are late talkers. Kjirsten said that although being a late talker is often a symptom of a child being autistic, that kids on the spectrum aren't necessarily late talkers, and that late talkers aren't necessarily on the spectrum. She went on to say that the list of symptoms for diagnosing autism is so specific to each individual child that you really need a speech pathologist to make that determination. Your pediatrician, who may have suspicions either way, is still only a generalist. This kind of diagnosis requires an expert, a speech pathologist who really knows the symptoms. She again says that parents should "trust their gut" if they don't agree with their pediatrician or speech pathologist's determination. She says "absolutely get a second opinion."
Demystifying the Speech Therapy Evaluation Process
The most wonderful aspect of this Blub Talks episode were all of the takeaways from the interview. Kjirsten de-mystified the evaluation process and emphasized that parents should trust their gut when trying to determine whether their child actually needs the help of a speech pathologist. She also pragmatically said that when in doubt, just take your child in for an evaluation, because you really have nothing to lose. She also mentioned that the Speech Blubs app can help you decide because it has a screener tool that was developed by speech therapists. The app's helpful Tips & Tricks give great advice on next steps for your kiddo.
She also shared her favorite activity to do at home to help, and at the end shared her top 3 tips for parents thinking of calling a speech therapist.
Boost Your Child's Speech Development!
Improve language & communication skills with fun learning!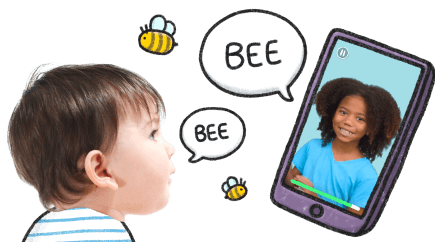 Kjirsten then spoke about how teletherapy has become more prevalent since the pandemic began, and said that parents have a range of options as to how they are involved in their child's sessions. It really depends on the range of issues, the way their homes are set up, number of family members that need to be occupied during the session, etc.
What a great talk, Kjirsten! This discussion is really helpful for parents who have never spoken to a speech therapist, and who are thinking of having their child evaluated. She really made the process less frightening, and more actionable. Thank you Kjirsten!
Have a question for our Speech Therapists?