Grocery Store Learning Activities for Kids
Feb 3, 2022 Shopping with kids can be overwhelming! But it doesn't always have to be. In fact, buying groceries can be fun for both you and your little one.
In addition to many learning activities you can partake with them, you can also use this moment to work on their social skills in addition to their communication skills. So, here are a few tips on how to make grocery shopping fun and educational!
Print Out a Visual Shopping List
Before going shopping with kids, print out a visual shopping list for your child to hold. If you want to be creative, you can have your child make one and decorate it themselves. If they are a little older, encourage them to write out the list.
Practice Letters
For instance, if you are grabbing some avocados, talk about how 'A' is for avocado, 'B' is for banana, or 'C' is for cat, etc.
Work on Target Sounds
If they struggle with a particular sound, try to find certain grocery items targeting these specific sounds. For example, if they struggle with the letter /R/, talk about how the store is filled with raspberries and raisins. ("Oh, look! Some raspberries . . . Can you say raspberries?").
"I Spy with My Little Eye" Something Red!
There are many ways you can work on colors while shopping with kids. However, incorporating some games such as I Spy with My Little Eye is not only fun, but it is also engaging. As you stop by the fruit section, talk about how you spy with your little eye something red and round. You can also encourage them to take turns for you to guess. In addition to colors, you can practice sizes and shapes. ("I spy with my little eye a blue square . . .")
Scavenger Hunt
With their grocery list in their hands, find the items together. Encourage your little tot to name the item they found while also being descriptive. And you can do so by motivating them to talk about the colors or food texture. For example, instead of saying we found the apples, say look "We found the red crunchy apples . . . Look, we found the box of cereal . . . cereals are sweet and crunchy."
Mommy, What's This?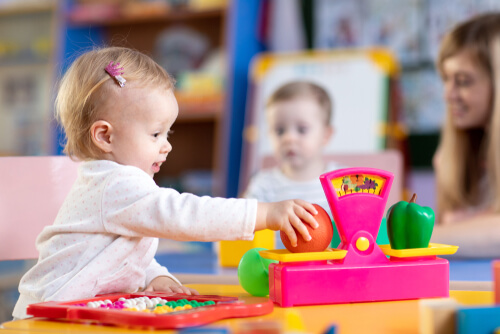 Children are curious little explorers and love to ask questions. As you walk through the store, allow them to ask questions. Doing so can further build their vocabulary and critical thinking skills.
Same vs. Different
While picking out different items, seize this moment to teach your child the concept of same vs different. For example, pick out two oranges and ask them if they are the same or different . . . then pick an avocado and a banana and repeat the same question. You can also use other forms of comparisons (big vs. small . . . long vs. short).
Count Items
In addition to expanding their vocabulary skills, you can work on numbers with your child whether you count the number of items in your shopping cart or the number of apricots you see in the produce section. ("How many apricots can you see? Let's count together . . .")
Practice Social Skills
Grocery shopping games for kids can be a great opportunity to work on social skills.
When paying for items, encourage your child to greet the cashier and make eye contact. As the cashier hands you your bags, motivate them to say thank you. Though it may seem trivial, doing so can further help build their social skills.
Indeed, grocery shopping with your child can be at times challenging, but it can also be a great bonding activity. Moreover, in addition to possibly creating memories, you can also use shopping routines to further work on your child's communication and social skills.
Have a question for our Speech Therapists?