You've probably heard that kids learn best through play and this is most certainly true with babies. One of the most important types of play that your child can be engaged in sensory play because it encourages brain development.
As a parent it's always exciting to watch your child learn new sights, sounds, colors, and shapes. Sensory play is a great way to target those skills!
0-3 Month Sensory Play Activities
Newborns are growing and learning at lightning speed, so it's important to stimulate those little minds as much as you can. The best time to work with little ones this small is usually 15-30 minutes after a feeding or nap. You may have to start gradually and build up the time you play so that they aren't overstimulated.
Because babies this small are working on their senses, it's a good idea to target those things right now.
Gently stroke your baby's face, arms, legs, and feet and watch her react. You can use your hand, or a soft blanket or toy.
Use baby massage techniques to encourage touch and to bond with your little one.
Footprint painting crafts are a great way to encourage your baby's senses, while also creating meaningful keepsakes.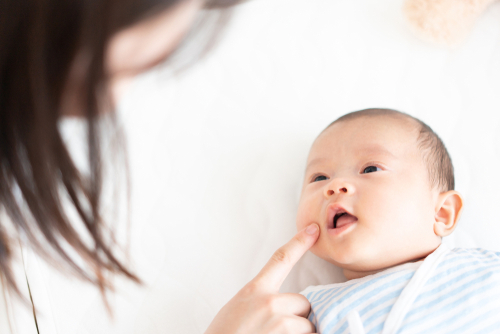 3-6 Month Sensory Play Activities
By 6 months, your baby is starting to get more and more curious and excited about the world around them. They will start to notice patterns and colors. Babies might also start enjoying tummy time a little bit more! One great way to work on cognitive development and motor skills is to place objects a little bit out of your child's reach and have them try to grasp them!
Colorful Water – Simply put a bit of water in a shallow baking tray and add a touch of food coloring. Lay it on the floor in front of your baby, where they can use their hands to reach out and feel the water on their skin. Let them splash around and enjoy the color.
Ice – Let the baby learn about temperature and sound by placing a few ice cubes in a plastic bottle. Baby will be able to feel the cold, as well as create sound.
Rice – Babies love swishing their hands through uncooked rice; it makes a delightful sound as well as providing a new texture. Empty a bag into a baking dish and add a few toys for extra enjoyment.
6-9 Month Sensory Play Activities
At this point in their lives, babies are able to handle more stimulation and can focus for slightly longer periods of time. He/she will start to enjoy looking at their world around them, so make sure to use sensory activities that will boost their interest!
Rainbow Spaghetti – Die cooked spaghetti in a variety of colors and place them on baby's highchair tray for her to dig her hands into. As a bonus, she can safely eat this sensory treat!
Jell-O Digging – Make a batch of Jell-O in a baking dish, with a few baby-safe toys encased inside. Allow your baby to dig through with their fingers to release the toys. Pro Tip: use natural Jello to avoid food dye that may stain the baby's hands.
Edible Sand – Place graham crackers and uncooked oatmeal into the blender. Then, use the "liquefy" setting to create a fine powder. It's great for a highchair activity, or you can put the sand into a shallow plastic storage container and sit baby right inside.
Speech Learning Simplified!
Start 14-day FREE #StayAtHome offer!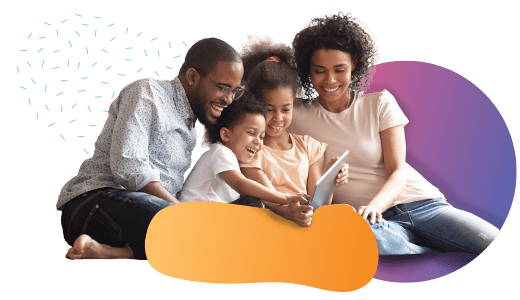 9-12 Month Sensory Play Activities
This is where the fun really begins. Babies will start to pull up and cruise at this point. This means they have more of a chance to explore and see their world in its entirety. Try these sensory activities with your soon-to-be walker!
Baby Bells – This is a great sound sensory experience. Lace a thin ribbon through loose bells (the kind you might use for a holiday craft) and tie them loosely around your baby's ankles. He'll be delighted by the sounds he makes with every movement.
Rainbow Bins – Create one or more bins of dry beans, cereal or colorfully dyed rice, complete with colorful toys inside. Scooping toys are great and help your baby practice motor skills while enjoying the sensory experience, too.
Ziplock Sensory Bag – This water activity is great for those nearing a year old, and you can make it in many different ways. Simply add a bit of water to a Ziplock bag, then fill it with items that will be interesting for little hands to squish. Magnets, hair bands, crayons are a few fun things to try this out with. Tape each edge of the bag with strong tape to avoid leaks.
12-18 Month Sensory Play Activities
At this age, your child wants to be more independent and their brain is doubling in size since birth! Here are some ways to stimulate all of that learning and growing that their minds are doing!
Magnet Play – All this one requires is a cookie sheet and an assortment of colorful magnets. Alphabet, numbers, or animal magnets are great choices, and you can help baby learn their names as he plays. (Make sure magnets are large and not a choking hazard).
Pasta Straws – Roll out a bit of playdoh or other dough of your choice and stick a few straws into it so they stand upright. Next, give your little one uncooked pasta noodles in a shape that can be stacked up on the straws. Rigatoni works really well and is my favorite pasta to do this with!
Pom Drop – This activity is great for fine motor skill development as well as sensory stimulation. Use washi tape or masking tape to affix an empty paper towel or toilet tissue tube to the wall at baby's height, then show her how to drop colorful pom-poms through. If your baby is old enough, begin talking about each color as she drops it.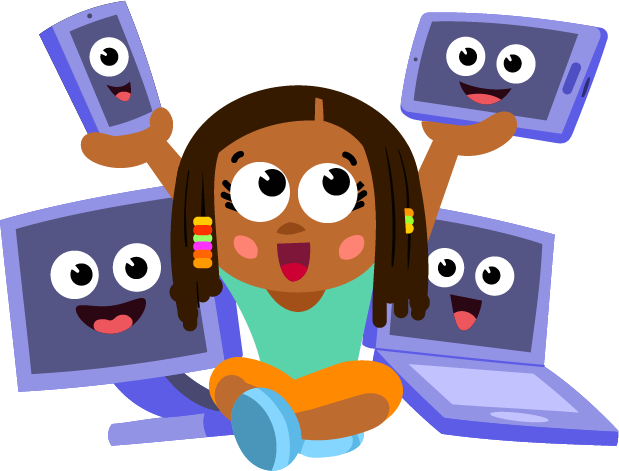 Have a question for our Speech Therapists?
Leave them in the comments! If you want to get a personal answer from our speech therapist, write to
ask-a-therapist@speechblubs.com!
The author's views are entirely his or her own and may not necessarily reflect the views of Blub Blub Inc. All content provided on this website is for informational purposes only and is not intended to be a substitute for independent professional medical judgement, advice, diagnosis, or treatment. Always seek the advice of your physician or other qualified health provider with any questions you may have regarding a medical condition. Never disregard professional medical advice or delay in seeking it because of something you have read on this website.