"N" Sound Articulation Therapy: The Nice N
Jan 15, 2022 The /n/ sound is typically used by the age of two and mastered by the age of three. If your child is not accurately and consistently using /n/ by the age of four, you should seek help from a speech-language pathologist.
The sounds /m/ and /n/ are both voiced sounds. This means they require movement of the vocal cords (our voice box that is situated in our neck). This can be felt as vibrations at the neck when both sounds are produced. Your child can feel this by touching their neck when doing /n/ sound articulation exercises.
While producing the sound /n/, the lips are slightly separated while the tongue tip touches the back of the (upper) front teeth. The air flows through the nose, as in the sound /m/, and there is vibration at the throat.
When teaching kids how to produce the /n/ sound, I look at where their tongue is placed. Oftentimes, if there is difficulty with this sound, which can be heard in articulation errors. It's difficult because their tongue isn't hitting the spot right behind their teeth.
To fix this error, I will put peanut butter, or touch the spot with a lollipop so that there's a sensation/taste to the area. Nine times out of ten, the food to tickling will make a child lift their tongue to the correct placement. Once the child knows the placement (from the activity above), encourage the child to let air through the nose. Let the child feel the air coming out by placing a finger under the nose.
This can be tricky at times and requires visual feedback (using a mirror) as well as tactile feedback (using the finger at the nose) consistently.
Once the /n/ sound is established in isolation, there is a need to join it to vowels and then consonants (to form syllables). Forming syllables (i.e., the sound along with other vowels like a, e, i, o, and u) are the first steps towards using the sounds in longer utterances. Articulation training requires training with sounds in syllables, at words, in sentences and paragraphs, and lastly within running speech/conversation.
Show Visual and Audio Cues with the Help of Speech Blubs
Speech Blubs App has multiple activities that you can use to target specific speech sounds. The games are fun and highly engagable so your child won't even realize that they are working on speech sounds!
Boost Your Child's Speech Development!
Improve language & communication skills with fun learning!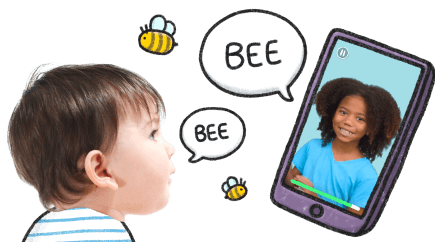 To practice making the N consonant here is the list of sections and words in them that you can practice with your child:
Early Sounds: Honk, Neigh, Oink, Nee Naw.
Wild Animals: Elephant, Lion, Kangaroo, Skunk, Bunny.
Petting ZOO: Pony, Bunny.
Outdoor Wonders: Sun, Moon, Thunder, Autumn, Rain, Run, Spring.
Living Colors: Green, Pink, Brown.
Yummy Time: Watermelon, Honey, Banana, Candy, Muffin.
Toy Box: Balloon, Swing.
When I grow up: Astronaut, Dancer, Policeman, Fireman.
Get into Shapes: Triangle, Rectangle, Diamond.
Numbers and me: One, Seven, Nine, Ten, Eleven, Thirteen, Fourteen, Fifteen, Sixteen, Seventeen, Eighteen, Nineteen, Twenty.
We are Family: Grandma, Grandpa.
This is my Body: Hand, Tongue, Nose,
Ride your Wheels: Van.
Dinorawrs: Tyrannosaurus Rex, Ankylosaurus.
Universe: Astronaut, Sun, Venus, Moon, Saturn, Uranus, Neptun.
How to Play Articulation Bingo?
Use the button below to download our Articulation Bingo Board
Print out the board and give it to your child or cut out the pictures and put them into a bag
Let your child pick a word from the board / bag
Find the word in Speech Blubs App and practice it, play with fun filters and watch educational videos
Your child is a winner when he practices three pictures in a row (across, down, or horizontally) or the entire board
`
`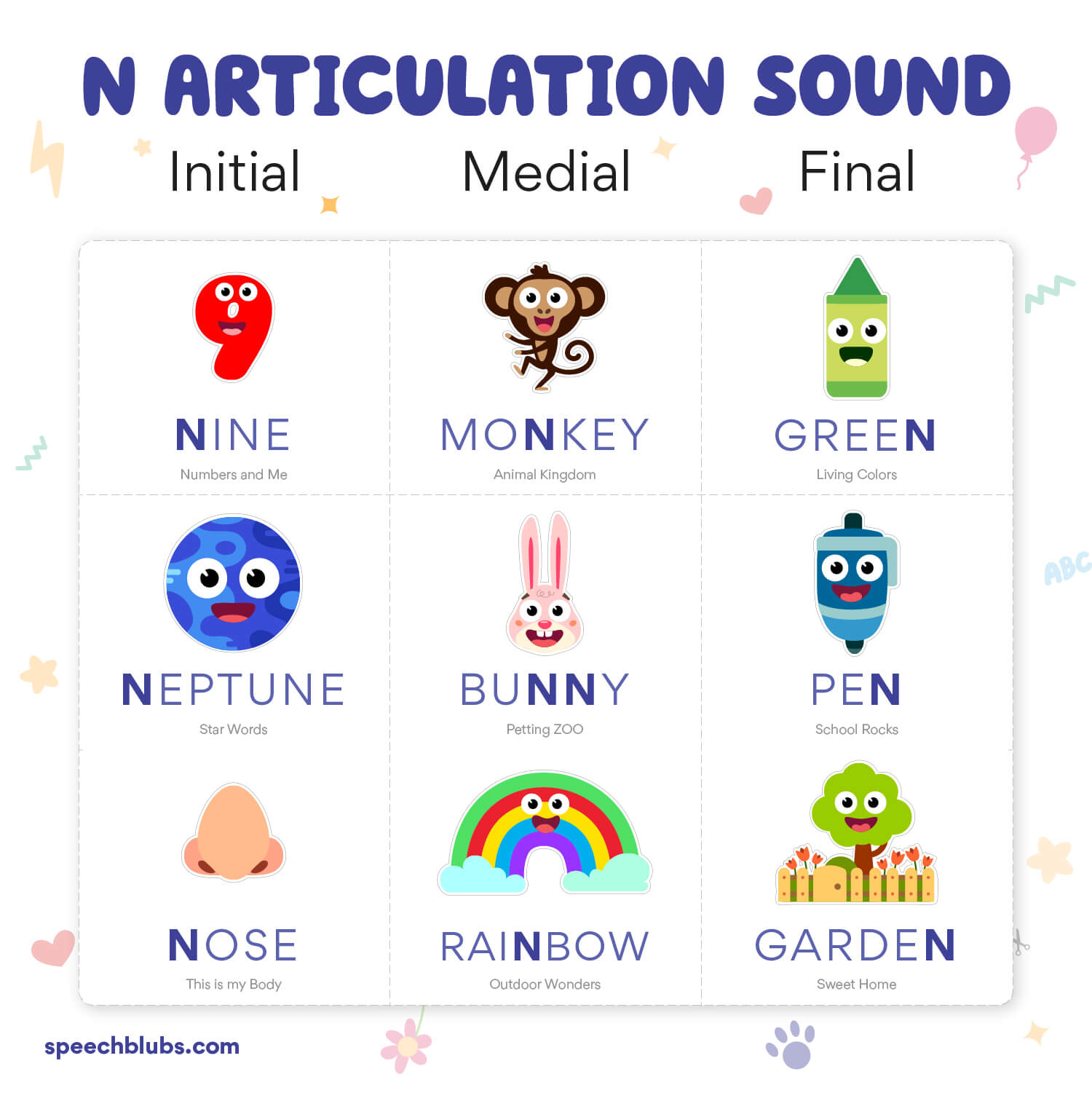 Working on the Sound
One of my favorite engaging and fun ways to work on any sounds is with books. Below is a list of several different books that I have used with children during therapy sessions to work on the letter /n/.
The Best Nest by P.D. Eastman
Just a Nap by Mercer Mayer
Nosy Rosie by Holly Keller
Night in the Country by Cynthia Rylant, Mary Szilagyi
The Napping House by Audrey Wood, Don Wood
Again, it may take a few different times before your child will sit and focus on reading. Be patient and encouraging. If they only sit through three pages, then shoot for them sitting through 4-5 the following night. Ask them what certain objects are and then have them point to things that you name.
This will work on both expressive and receptive language skills while targeting the sounds you are focused on.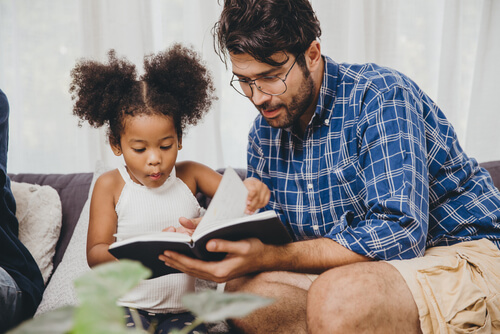 If your child has difficulties with other sounds, here are the articles that can help you with speech therapy and articulation activities ideas:
Don't forget the speech therapist-approved articulation games within Speech Blubs, too!