5 Kids Games for Articulation Therapy
Mar 12, 2020 Parents often struggle to think of creative and fun ways to keep their children engaged in articulation practice. Here are some great games that you can utilize even if your child has trouble sitting still!
If your child is getting articulation therapy in the school setting, this means they are working on specific sounds that are not coming out clear when they communicate.
If your child has difficulties with certain sounds in words, here are the articles that can help you with speech therapy and articulation activities ideas:
As a private speech therapist, I always give my families handouts and worksheets that they can do at home, but those can get boring and redundant after a while. You can keep them entertained with articulation practice while they learn. Check our list of articulation games below!
1. Fortune-Tellers
These little games are also called 'Cootie Catchers.' If you grew up in the last several decades, then you are probably familiar with the folded up version that helps you find out who your next boyfriend or girlfriend will be.
Pick a number and count, then pick a color and spell it out. Open up the flap to reveal who your next crush will be. Remember them?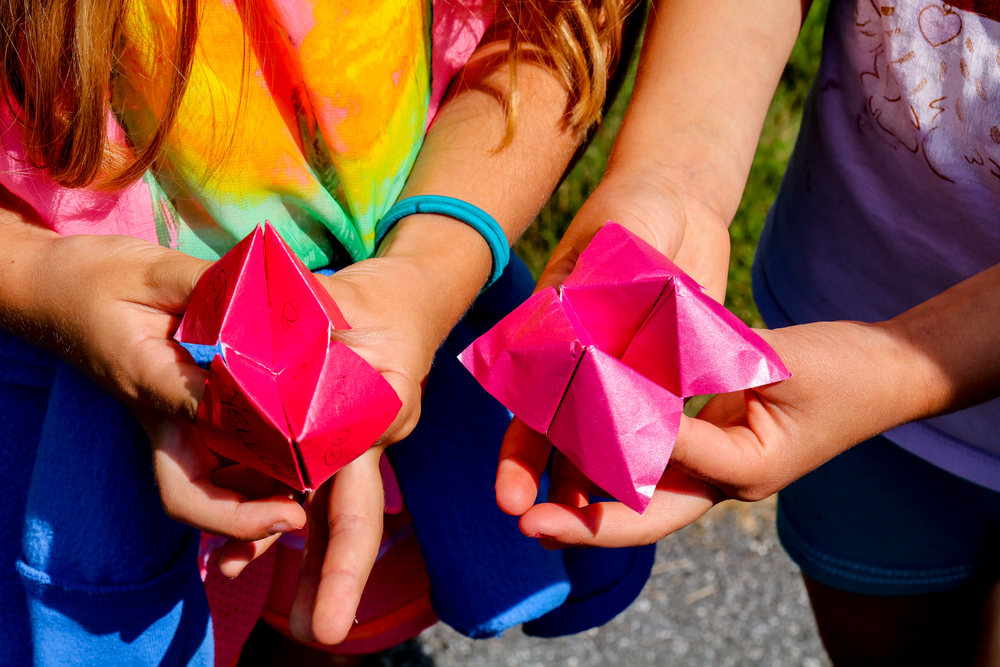 Fortune tellers can now be made into a simple and fun articulation game to be used with speech language clients and students. They are simple to make, and can be engaging and fun for both the Speech-Language Pathologist and the student. Plus, you already have the materials at home, so they are inexpensive and readily available.
You can create fortune-tellers for practicing R, L, S, Z, SH, CH, TH, R-blends, L-blends, S-blends in each position: beginning, middle, and end.
2. Flip Books
These will require a little more time, but are still a relatively simple activity to do with your kids. Flip books are easy to make and ready at a moment's notice when a Speech-Language Pathologist or parent needs an activity in a pinch. Whether you make your own or purchase one of the many options available, flip books provide a simple way for those working on providing articulation learning activities.
If you want to make your own, but don't know where to start, Amazon actually sells flip book kits that you can do with your child.
If you are artistically inclined, which I am not, feel free to draw them yourself. Make sure to put pictures with the sounds that you are targeting and that the sound is in all positions of the words. As your child progresses, you can use the same books to work on phrases, sentences, and conversation so you can keep and reuse them for a while!
3. Articulation Battleship
Older students will love this articulation version of the Milton Bradley game Battle Ship. Using a template provided by Sublimespeech.com, the coordinates of the board are made up of articulation words.
Students take turns saying two words which provide coordinates for their guess. As the parent, you can create different boards for different sounds and provide those boards specific to the student's needs.
4. Articulation Bowling
Some children struggle with sitting still through an entire articulation therapy session. For these students, having a more physical game can be beneficial for learning – that's where Articulation Bowling comes in.
To play, you will use a set of articulation cards for the sounds being worked on that day. Set up the cards in the formation of bowling pins.
You can google articulation cards for whatever sound that your child is working on and a ton will pop right up!
A plastic bowling pin will then be placed on top of each card. Once the student throws the plastic bowling ball at the pins and knocks them over, the student will then read the words on the cards for each pin that was knocked over. Check out Amazon for cheap bowling pins and use whatever ball you have at home!
This game is great because it keeps students moving and learning at the same time. In addition, because the student gets a higher score for knocking over more pins, they will then get more word practice as well.
5. Pizza Delivery
This is another great articulation game for students who need to be more physical. Pizza Delivery combines several other types of learning along with articulation. While setup for this game may take a bit more work on the front end, the tools can be laminated and incorporated over and over. If you don't have a laminator, they sell sheets online that are basically the same thing, but you won't need the machine.
Using masking tape or painters tape, develop a series of "roads" on the floor. Then create houses and street signs. Each street can be named using words with sounds the student is currently working to master. If you don't want to do that, then use different objects in your house to represent the houses and street signs.
Using a toy car, the child must "deliver" a pizza to the correct house using the directions given and pronouncing the street names as he drives on them. For complete instructions visit Notimeforflashcards.com.
In any event, if you think your child is having a difficult time with certain speech sounds, or that (s)he might have an articulation disorder, contact your local speech-language pathologist as soon as possible.
Speech Blubs App Helps Your Child Catch up!
Make sure to download the Speech Blubs app: available in App Store, Google Play Store, and on our website! Work on imitation and articulation skills, build vocabulary to express needs, and converse more! Set your personalised goals now and start learning.
Speech Blubs is a learning app for everyone: If you want to work on language development or your child has a speech delay, autism, Down syndrome, hearing loss, tongue tie, cleft palate, or Apraxia – kids find this app very helpful. More than 4+ million parents tried the app – see what they have to say about it.
You get free access to Parents Academy and educational videos about speech development in the app. You can even talk to our speech therapist if you have concerns! If you are still unsure, watch our free webinar with speech therapist Tori or join our Facebook Group for parents.
Have a question for our Speech Therapists?