Sensory Bottles for Autism : A Simple Guide
Jan 6, 2022 When it comes to creating "sensory" or "calm down" bottles, it's all about experimenting. The most important ingredient you need for making sensory bottles is creativity!
Children with autism struggle with processing sensory information around them such as tastes, movement, brightness, smells, and textures. Sensory bottles provide a calming sensory experience for children with autism and sensory needs. Children with autism often struggle with feeling overwhelmed by sensory input from their environment. This type of sensory toy can calm meltdowns or tantrums when a child is feeling stressed with too much sensory input.
Autism and Speech Blubs App
For engaging and fun speech learning activities give Speech Blubs a try. Speech Blubs is a language therapy app that was initially developed for children with autism, Down syndrome, and apraxia of speech.
The more you practice, the more it carries over! Explore more than 1,500 fun and engaging therapy sessions with your little one. Get your 14-day trial today!
Boost Your Child's Speech Development!
Improve language & communication skills with fun learning!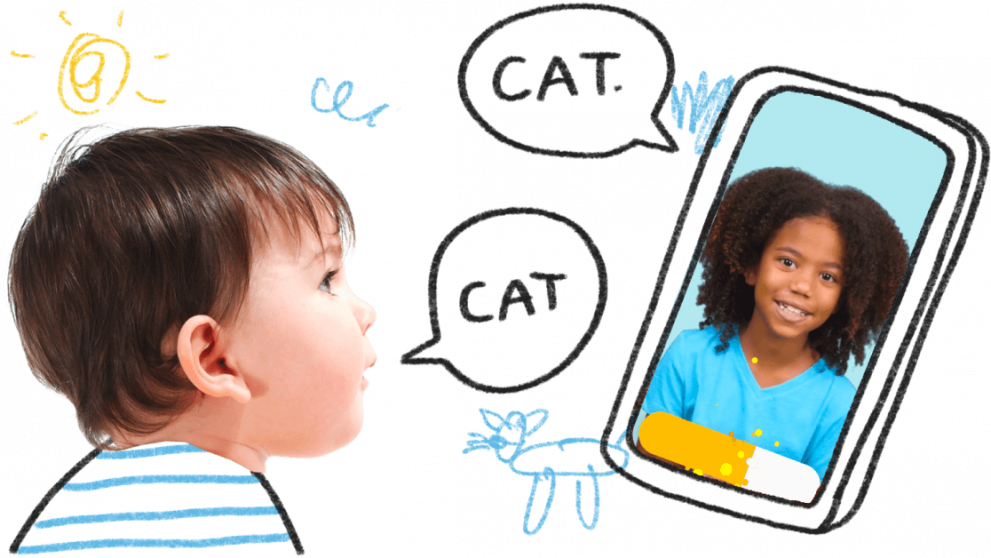 Sensory play and sensory toys provide the following benefits for children with autism:
Helps develop vocabulary
Tunes fine motor skills
Learn cause and effect association
Develop self-control
Helps a child self-regulate
Increases focus and attention
Regulates the vestibular system
Decreases aggressive behavior and frustration
A study published in the Journal of Autism and Developmental Disorders found children who participated in regular sensory integration therapy needed less assistance from their parents in the areas of social situations and self-care compared to those not receiving sensory integration therapy.
Along with all the benefits sensory play provides a child with autism, sensory bottles are especially great for sensory play because there is no mess! All the mess is contained in a sealed plastic bottle that can be taken anywhere. Sensory bottles are perfect for away-from-home sensory meltdowns. To start making sensory bottles customized for your child, let's look at some ideas of what to fill sensory bottles with!
Sensory Bottle Fillers:
Water beads
Sequins
Glitter
Sticks
Straws
Legos
Confetti
Seashells
Buttons
Marbles
Dry pasta
Rice
Dried beans
Plastic letters and numbers
Gems
Plastic flowers
Plastic animals
Pom pom balls
Googly eyes
Mini erasers
Sand
Feathers
While you can always just add any of the fillers above into a bottle without liquid, there are certain liquids to add with fillers to get different effects for sensory bottles.
Sensory Bottle Liquids:
Water
Food coloring
Glitter glue
Hair gel
Baby oil
Cooking oil
Shampoo
Light corn syrup
Dish soap
Clear glue
To get started making sensory bottles, start experimenting! There are different types of bottles that create different effects depending on the type of liquid you add to the bottle. There are many "recipes" you can find online if you want to make things easier for yourself or you're not comfortable with experimenting on your own.
Boost Your Child's Speech Development!
Improve language & communication skills with fun learning!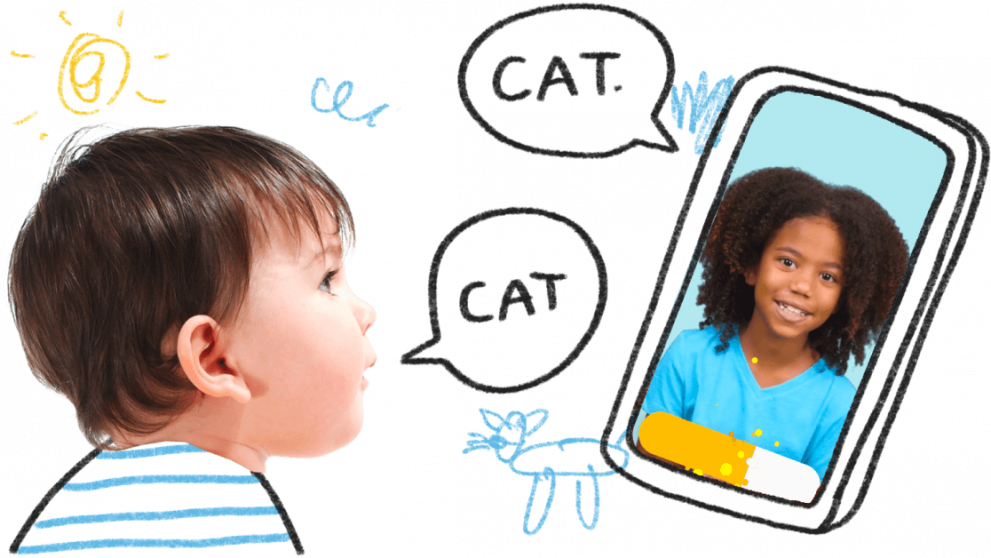 When creating sensory bottles, there are a few things to keep in mind! Stick to these 5 helpful tips for experimenting:
Don't overfill the bottles with liquid – Fill the bottle half full with a liquid of your choice and then add in your craft supplies.
Don't glue the lid shut (at first) – Test out your creation and see if you like the way the crafts flow through the bottle. If you don't, adjust the liquid accordingly.
Add more water to make the sensory bottle move faster.
Add a thick liquid (corn syrup, hand soap, etc.) if you want the bottle to move slower.
Try and remove any air from the bottle by adding in more water and a thicker liquid.
Although you can always follow a specific recipe to get a certain look and feel for sensory bottles, there are common "styles" to try for your child.
Here are some "style" examples:
Glitter Sensory Bottle – A bottle filled only with liquid and glitter.
Wave Sensory Bottle – A bottle filled with baby oil or cooking oil, food coloring, or glitter with water.
Look-and-find Sensory Bottle – A bottled with no liquid. It only contains sand, rice, or beans with small toys.
Rain Stick Sensory Bottle – A bottle with no liquid that contains only sticks and rice to produce rain sounds.
With these "styles" of sensory bottles in mind, I started experimenting. Try two of my easy recipes below!
How To Make Sensory Bottles
Glitter and Oil Wave Sensory Bottle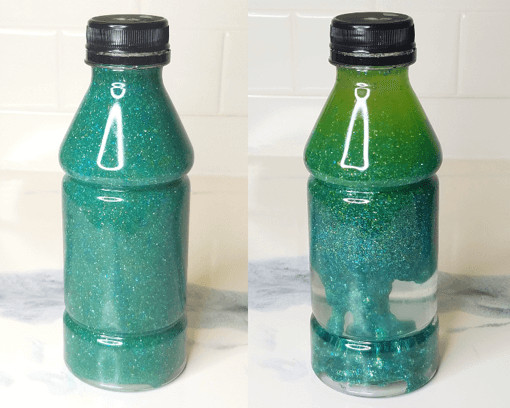 The picture on the left is what it looks like when mixed. The picture on the right is what it looks like when the bottle "settles." It creates a mesmerizing effect!
To make your own glitter and oil wave sensory bottle, follow the directions below:
Grab a plastic bottle with the label off
Add ¼ cup of glitter (different colors or one color)
Fill the bottle half full with warm water
Fill the remainder of the bottle with oil (I used vegetable oil)
Secure the lid and mix it up too see if you like the results
If you're happy with the results, glue the lid down
Basic Sensory Bottle With Pom Pom's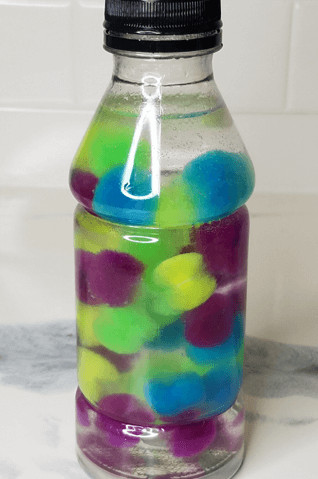 Grab a clear bottle with the label removed
Fill the bottle with an inch or two of clear glue
Add a handful of pom pom's
Fill the rest of the bottle with warm (not cold) water
Secure the lid and give it a shake
If you're happy with how the pom pom's move, then glue the lid
Remember – The thicker the liquid (like clear glue) you add, the slower objects move in the bottle. Pom poms are extremely light! This bottle doesn't require much glue.
Start Experimenting
Sensory bottles make an on-the-go sensory experience for children with autism to calm and regulate emotions while increasing your child's focus and attention. They are also completely customizable! All you have to do now is start experimenting and creating with a variety of crafts and liquids.
Have a question for our Speech Therapists?