Blub Talks: How to Foster Independent Play in Toddlers
Jan 3, 2022 In this episode of Blub Talks, we present an interesting discussion with Emily Lawson, founder of the Sandbox Academy, former elementary school teacher, parent adviser, and stay-at-home mom.
Our host and teaching sensei Robert M. led our guest through topics relating to independent play, why it's an important and far-reaching developmental activity for children, tips and activities for bringing independent play into your household, as well as questions to ask prospective preschools you may be considering to help make the decision for your little one.
Listen to Blub Talks Podcast
Watch the Video Podcast
The discussion began with a "catch-up" for our viewers, talking about Emily's background as a teacher, her transition to a stay-at-home home, and eventually founding the Sandbox Academy to help other caregivers and moms use her tried and tested play activities that not only are fun, but engage and develop kids. She also talked about just some of the many amazing resources she makes available on her website, that include baking recipes, craft activities, and her well-known "Preschool Playbook," which she calls her "third child."
What are the Benefits of Independent Play
Robert asked Emily about the status of going back to in-person learning in California, and she said that her 6-year-old daughter is attending five days a week for half days, and wearing masks the entire time. Her 4-year-old son is attending preschool two days a week, and getting more fun activities at home with mom Emily.
Boost Your Child's Speech Development!
Improve language & communication skills with fun learning!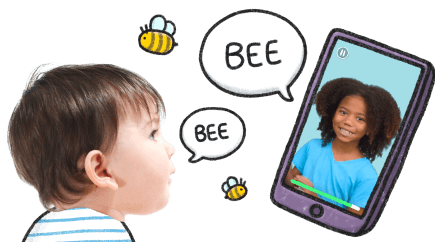 Robert and Emily then talk about what independent play is, why it's so important, and how to get started. She gives three of her favorite tips for play activities, how to start along with her idea of when to start, between "18 months and 2 years, depending on when you feel comfortable leaving the room for a "hot minute."
Emily also talks about building "problem-solving skills, resiliency, and social emotional skills" in playing independently, in that even playing with others, as long as it's not parent-directed or involved, constitutes independent play. Experiencing disappointment or frustration is part of the package, and kids have to learn to deal with it and become more resilient as they grow.
How to Homeschool Preschoolers
When putting together activities for her kiddos, she often includes a "more academic one and the other is play-based or art-centric." The most important activity, in her opinion, is anything that is based on patterns. Recognizing them, creating them, anything pattern-related is good. She also loves activities that deal with rhyming, and says these activities can come from anywhere. They don't have to be fancy or take a lot of prep time. Get creative and make up nonsense rhyming words!
Emily is clear when she says that she doesn't think there's ever a good reason – besides the health or her kids or if her house is somehow at risk – to interrupt independent play. If parents can get a 1–2 hour break, take advantage of it! Also, make independent play a part of your routine, so the kids are used to it being part of their day.
She then talks pointedly about some schools who advocate for more academic learning, worksheet-based class time, and says that she would "go running for the hills" if she heard that was the preschool's focus. She is very clear in saying that playing is "rigorous learning" and that it's up to parents to push back on a more academic approach to preschool. She further says that it's meant to be a time for play, and that's a time they can't get back.
We agree wholeheartedly, Emily! Last but not least, she talks about the furtive opportunities stay-at-home parents have for teaching speech, and she focuses on "narrating her day." This just means that even when kids are infants she describes what and how she does everyday things, and in so doing she teaches kids new vocabulary, all about what lists are and how they are used, and covers various topics that include literacy and numeracy.
What a great talk, Emily! Don't forget to visit her website to see all of her amazing resources. Use code "BLUBS10" and you'll get 10% off for her Preschool Playbook! Thank you Emily!
Have a question for our Speech Therapists?