Speech Blubs Review: "Engaging & Effective Practice"
Jan 26, 2022 Speech Blubs review: "How does this app even work? Is it good for my child?" We say yes! Don't take our word for it. Listen to happy moms, dads, and speech therapists in Speech Blubs reviews.
Lindsay works in the child development field, so her enthusiasm about the Speech Blubs app is the biggest award ever! Need more proof? Check out more Speech Blubs testimonials from our community of satisfied users describing how scientifically-proven video modeling works.
Speech Blubs Review: Lindsay Clarke, mom and ABA at Bright Steps Behaviour
"I don't even know where to begin with how much we love this app! My daughter Evelyn will be turning two in just two weeks. At around 16 months (shortly after quarantine started), we realized she wasn't quite hitting some of the expressive speech milestones for her age.
We became more mindful of our expectations for verbal communication throughout the day, but also wanted some fun and specific ways for her to practice while we awaited a formal speech & language evaluation. I stumbled across the Speech Blubs app, and it is a gold mine of engaging and effective practice. After completing the little developmental questionnaire, it was recommended that Evelyn practice with Speech Blubs for 10 minutes per day. It tracks how long she plays and which words, phrases, songs and categories she has practiced.
I usually set her up with the app when I am trying to make lunch so that she's busy learning (and not getting into mischief). And I typically have to pry the game out of her hands because she LOVES playing it that much. The app is so incredibly thoughtful, engaging, and reinforcing. I'm blown away by not just how beautifully her vocabulary has bloomed, but also how her confidence and pride have bloomed as well.
I can't recommend using this app enough, as someone who works in the child development field – it is worth every penny!"
Download the Speech Blubs App and Start Learning
Speech Blubs Review: Mike Adam, dad & Radio Personality
"Definitely check it out, I think it will really help your child and they will just have fun playing on there!"
Watch the full Speech Blubs review:
Speech Blubs Review by Paige Martin, a speech therapist
"I absolutely love Speech Blubs because it provides so many opportunities and fun ways to work on speech and language skills. For example, my client loves watching kids making early sounds, and she is really motivated to make the sounds herself."
Watch the full Speech Blubs review:
Speech Blubs Review by Walkie Talkie Speech Therapy
"My honest opinion about this app is that is pretty cool, it is pretty fun, it is helpful for most children. I've tried it with four different kids, and for one it was super successful, she learned all of her animal sounds by using this app with her parents at home."
Watch the full Speech Blubs review:
Speech Blubs Review by Rachel Madel, speech therapist and Talking with Tech host
Watch the full Speech Blubs review:
Speech Blubs Review from the App Store
Speech Blubs has more than 6+million downloads! Over 11,636 Speech Blubs reviews in the App Store say the app deserves an excellent 4.6 stars! Read some of the Speech Blubs reviews from the app store!
4 yr old autistic son LOVES Speech Blubs by kristyadams85: "Affordable, fun, and engaging!"
Amazing app by fallen42001: "My daughter is 2 years and 3 months and she's speaking better than toddlers her age. Speech Blubs is so worth the money!"
I absolutely love Speech Blubs!! by SamP216: "He enjoys the educational games, and it actually catches his attention. It encourages him to speak more and gain additional fine motor skills."
Amazing Love it by @germosenempire: "Speech Blubs has been such a fun learning experience for my little one! Definitely recommend."
Get Speech Blubs by Babaah baby: "The only app I've purchased that I feel is truly worth the money. My daughter loves it!!!"
Best app by july june glenyell and emyni: "Best app because it taught my baby how to talk!"
Great for young kids! by emily babs 3: "We have loved Speech Blubs for years now. My daughter loves it, and it really has helped her explore new words and work on her pronunciation."
Son loves it by Meeshzhd: "My son is almost 2 years old and has enjoyed Speech Blubs for the last couple of months. I've definitely noticed an improvement in his words and curiosity. He lights up when I open this app."
Cool app by Allyybearr15: "So far my 2 year old really enjoys this, she actually follows along with the screen, interacts with the games. Hasn't spoken yet, but getting close. As a mom, I think it's great to sit and play with my daughter for a few minutes at a time. I enjoy Speech Blubs as well :)"
Good job Speech Blubs by JackyF.: "Great app. This helped my kid learn all the words on the app and their meaning in just a few months. And the customer support team is very nice and helpful."
Download the Speech Blubs App and Start Learning
Speech Blubs is a highly-rated (4.6⭐ on Apple Store) voice-controlled speech therapy app. Try a 7-day free trial to check out its features, helpful parent's section, new saveable face filters. Your subscription also gives you access to the reading app READING BLUBS!
Boost Your Child's Speech Development!
Improve language & communication skills with fun learning!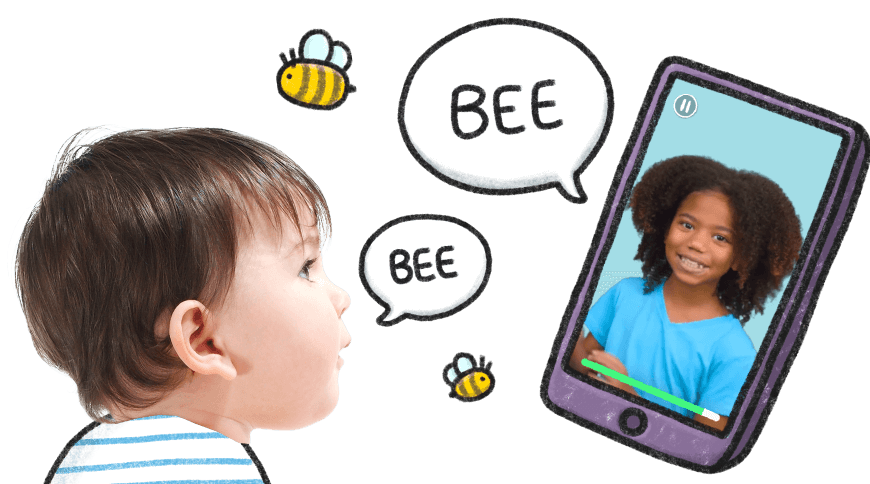 Have a question for our Speech Therapists?