Spring Activity to Target Speech Therapy
May 6, 2020 If you are anything like me, we are trying to find different activities to keep our kids occupied, having fun AND LEARNING! It can be exhausting!
I've found that my daughter is highly motivated by her favorite movie characters and by all things Disney. She also loves going outside, so I've been incorporating both aspects into activities that target speech, language, comprehension, and vocabulary!
Minnie Mouse Flower Pots
When I found this craft online, I was like it's such a cute idea and can easily be adapted for children of all ages. If you have a little boy, you can use Mickey Mouse, Goofy, or Pluto! They are all super cute and give lots of chances to develop all areas of communication!
First things first – you'll need to gather all of your materials. Most of these things can be found at your local big hardware store like Home Depot or Lowe's, but I got most of my supplies from the Dollar Store or from Amazon.
Terra-cotta flower pot
White, red, yellow, black, light blue, blue, black, and pink acrylic paint
Paintbrushes
Black felt-tip pen
Red and yellow craft foam
White paper
Scissors
Hot glue
Pencil
Once you have your supplies, you can decide on which design you want to focus. I had our daughter pick a picture and tell me the character that she wanted to draw.
You can really let your imagination run with this project! Use a rag to dust off the terra-cotta pot. Paint the pot with a coat of white paint. Let dry completely. To create the polka dot flower pot, add a second coat of white paint. Let dry completely. Draw a polka dot pattern all over the pot with pencil. You can cut a circle from cardstock to use as a template if you'd like the polka dots to be identical in size.
Fill in the space around the dots with black paint. Once the paint is completely dry, seal with a layer of decoupage glue. Honestly, I didn't use the glue. We are keeping these pots on our windowsill, so there really wasn't a need to use it!
Cut a bow shape from red craft foam. Use the black felt tip marker to create an edge outline and bow details. Hot glue the bow to the top of the pot.
Ways to Target Speech during the Activity
One of the first things you can do is to have your child pick the pot or character that they want to focus on.
By having your child choose, it works on:
Decision-making
Critical thinking
Recall of information
Isn't that crazy? Just having your child pick a character targets so many different areas of communication and cognition!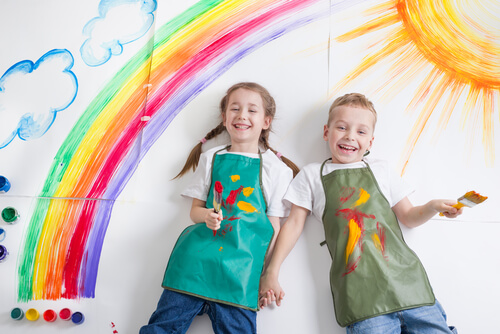 When going to paint, make sure you have your child tell you the shapes and colors that you are using. You can also have them tell you what the felt feels like or if the paint is wet/dry. These questions will target:
Deductive reasoning
Critical thinking
Articulation
Inferencing
I have a lot of parents ask me how to target speech while at home. As you can see, by just asking questions that you most likely do already, you're giving your child a chance to communicate.
The way you ask your questions will target those more critical thinking areas of the brain that will only grow and develop more as they age. These skills will help them when it comes time to build friendships and enter kindergarten.
Speech Blubs App Helps Your Child Catch up!
Make sure to download the Speech Blubs app: available in App Store, Google Play Store, and on our website! Work on imitation and articulation skills, build vocabulary to express needs, and converse more! Set your personalised goals now and start learning.
Speech Blubs is a learning app for everyone: If you want to work on language development or your child has a speech delay, autism, Down syndrome, hearing loss, tongue tie, cleft palate, or Apraxia – kids find this app very helpful. More than 4+ million parents tried the app – see what they have to say about it.
You get free access to Parents Academy and educational videos about speech development in the app. You can even talk to our speech therapist if you have concerns! If you are still unsure, watch our free webinar with speech therapist Tori or join our Facebook Group for parents.
Have a question for our Speech Therapists?