One of the simplest things to help reinforce literacy skills in your child at an early age is to read them a bedtime story. You give them an advantage in strengthening their understanding of reading and language.
Bedtime stories create a foundation of phonics, new vocabulary words, and reading comprehension. Plus, you encourage excitement for reading.
Reading daily to my three kids has been something we have done from the time they were born until they start to want to read on their own. The most amazing part of reading to our children has been experiencing their growth. We see a transformation in their understanding of words, letters, and language all without them realizing.
You see books introduce kids to words and concepts, some of which are beyond normal everyday conversations you have with them. This jump-starts some of the best building blocks to help their ability to read and write in the future.
When you read aloud to your kids, sometimes they will watch your mouth move and form. When they listen to the tone of your voice, this helps with diction. Even at an early age, the words on the pages will start to form as memorization. All helping to improve their cognitive skills and language.
How Soon Should You Start Reading Bedtime Stories?
For us, it started from day one. Babies can't quite see at such a young age, but they begin to learn about the world around them with active listening.
Listening to the tone of your voice and words you are using are all part of the learning process. Their brains actually make connections to sounds.
Starting a bedtime routine as young as infancy has been a natural progression in our family.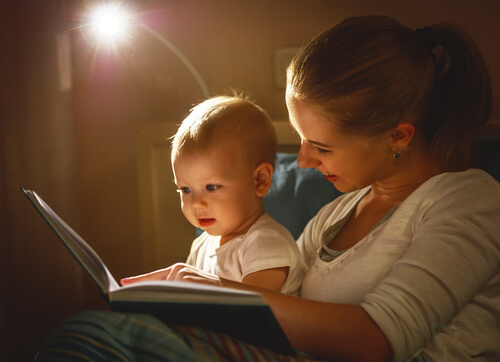 This transition into a calm atmosphere with dim lights and stories signals to your babies that it's the end of the day.
The Benefits of Bedtime Stories for the Whole Family
Reading bedtime stories creates a distraction-free period in your daily life.
Our youngest children are 5 and 2 years old. When it is time for storytime, they enjoy picking out their own books. Each child has their own bookshelf with age-appropriate books they can choose from.
My husband and I take turns reading books to the kids as a family. We choose one of the kid's bedrooms to sit down in and all read together.
The reason why both of us read is:
The kids have an opportunity to cuddle with one parent
They hear words coming from each person
Both parents are active in the bonding time
Another benefit of reading stories is the possibility of questions. Older children will tend to engage in conversation, wanting to gain further understanding.
This conversation helps with cognitive learning and comprehension.
Sometimes stories can trigger a memory. For example, our kids will begin to talk about something that happened in their day.
At times, a funny word in the book will make them laugh.
This time is well spent with giggles, as we help them learn each day about their world through books.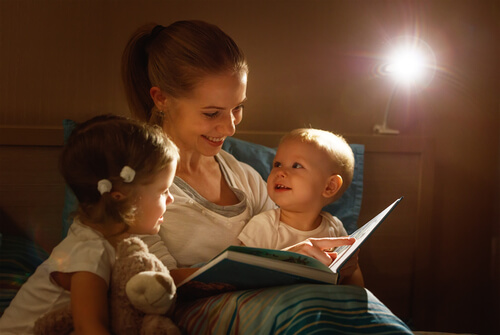 Also reading daily and conversations can give you opportunities as a parent. It can help you gauge and find areas of strength and weaknesses in your child's literacy.
And, if your household is like ours, where one parent stays home and the other works outside the home, the working parent also gets to take part in the development of the children.
How to Make Time for Bedtime Stories
One of the most important things to know is that kids thrive on routines. These routines help with transitions and comfort children about what is happening next.
We created and used a natural progressive bedtime routine.
Our schedule begins at 7 pm, which allows ample time for bedtime stories. This time is also a stress-reducing time.
At around 7 pm, we tell the children it's time to take showers, and then we follow the B-word system.
B-word system
Infants: Bath, Bottle, Book, Bed
Toddler/kids: Bath, Brush, Book, Bed
Following the four Bs is so easy.
But the key part of this system is to begin this at a young age. Even if you haven't done this, you can get into the routine. You see, repetition is key.
Start one day at a time when it is best for your family. You may soon find your kids rushing or eager to pick out their choice of books and looking forward to reading time.
Speech Learning Simplified!
Start 14-day FREE #StayAtHome offer!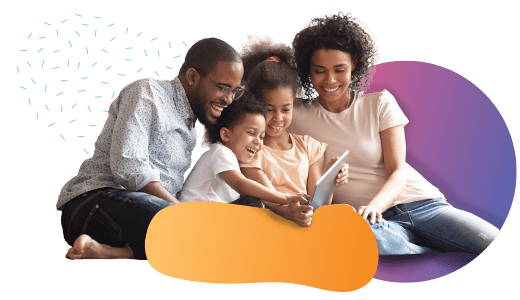 How to Make Bedtime Stories Fun!
Some simple creativity can make bedtime stories fun for everyone. Here are a few tips we use:
Read character parts in different funny voices
Act out sounds or action words
Use puppets or hand socks
Create a reading nook with comfy pillows
Snuggle in a favorite chair
Use fun lights to turn on during reading time
Get books that popup, or have a touch and feel parts
Get books that come with picture projections to put on the wall or ceiling.
By creating an atmosphere of enthusiasm around reading bedtime stories, your children will grow up with a love for books and find joy in them. Not to mention, you will create lasting memories.
How to Build Your Own Library of Books
There are some easy fun ways to start your own library at home:
For new parents, add books to your baby registry
Instead of gifts or toys at birthdays, ask for books
Join a monthly book subscription box
Find a free share library in your neighborhood
Swap books monthly with friends
Reward good behavior with books to a series you are reading or with fun stickers inside
Books make great gifts because they grow with your children and then can be passed on to others.
How to Read to Your Child When They Don't Want to Sit Still
We have nights where our 2-year-old won't sit still for stories.
When those nights happen, we don't stop the reading. Instead, we find ways to engage her attention. Here are some of the ways that have been successful for us:
We ask her to find an object in the book as we read
We ask her to act out parts for example (can you hop like a frog?).
Doing these kinds of easy tricks gets her naturally back into reading, but allows that energy to be channeled.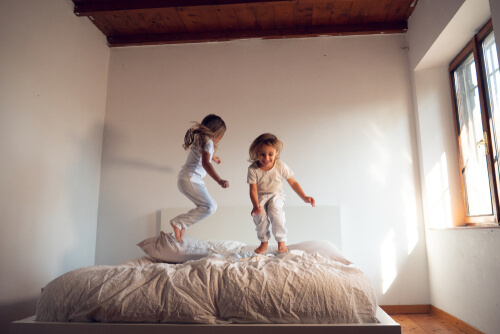 But even if your child is not fully sitting, keep reading, they are listening even if you think they are not.
If your child is really having a hard time, maybe then a shorter book is needed that night.
How to Add Diversity to Bedtime Stories
You will find kids will fall in love with a certain book or books and want to repeat them over and over again. We have run into this. We will read it as many times as they want, but variety is needed as well. So how do we combat this?
Some simple remedies to use:
Read two books instead of one. Allow the favorite book to be read in addition to another book
Pick a weekly theme and get your kids excited about what this week's is going to be
Surprise your kids with a brand-new book as a gift.
Reading daily to your child is one of the simplest forms of reinforcing literacy. It helps make connections to words, improves memory, allows questioning, and exposes them to new vocabulary. This is a road dedicated to fostering a love for books, language, and learning. With lots of snuggles!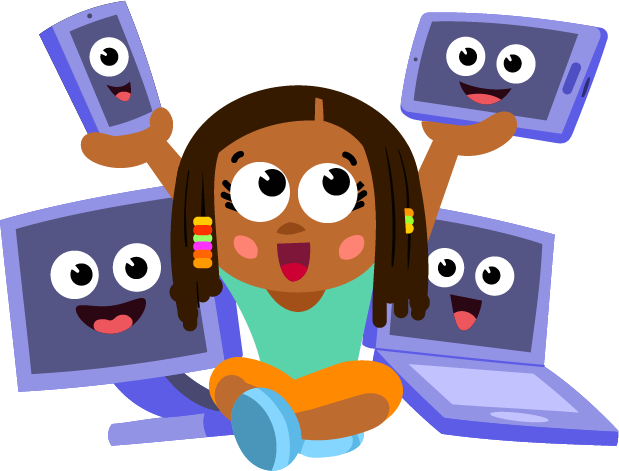 Have a question for our Speech Therapists?
Leave them in the comments! If you want to get a personal answer from our speech therapist, write to
ask-a-therapist@speechblubs.com!