How to Engage Kids in Learning
Jan 17, 2022 In time of the pandemic I find myself as a speech therapist and a mother trying to think of ways to keep kids engaged, happy, and learning.
I'm going to split this blog into two sections; tips for professionals and tips for parents. If you have any other specific questions that I do not address, please let us at Speech Blubs know!
Tips for Parents
We are lucky (in a way) that this pandemic has hit now because we have St. Patrick's Day activities and Easter activities that we can start to work on with our kids. Crafts are a great way to target speech and language skills, and fine and gross motor movements. For a few St. Patrick's Day suggestions, check out my blog, 6 kids activities to build vocabulary.
`
`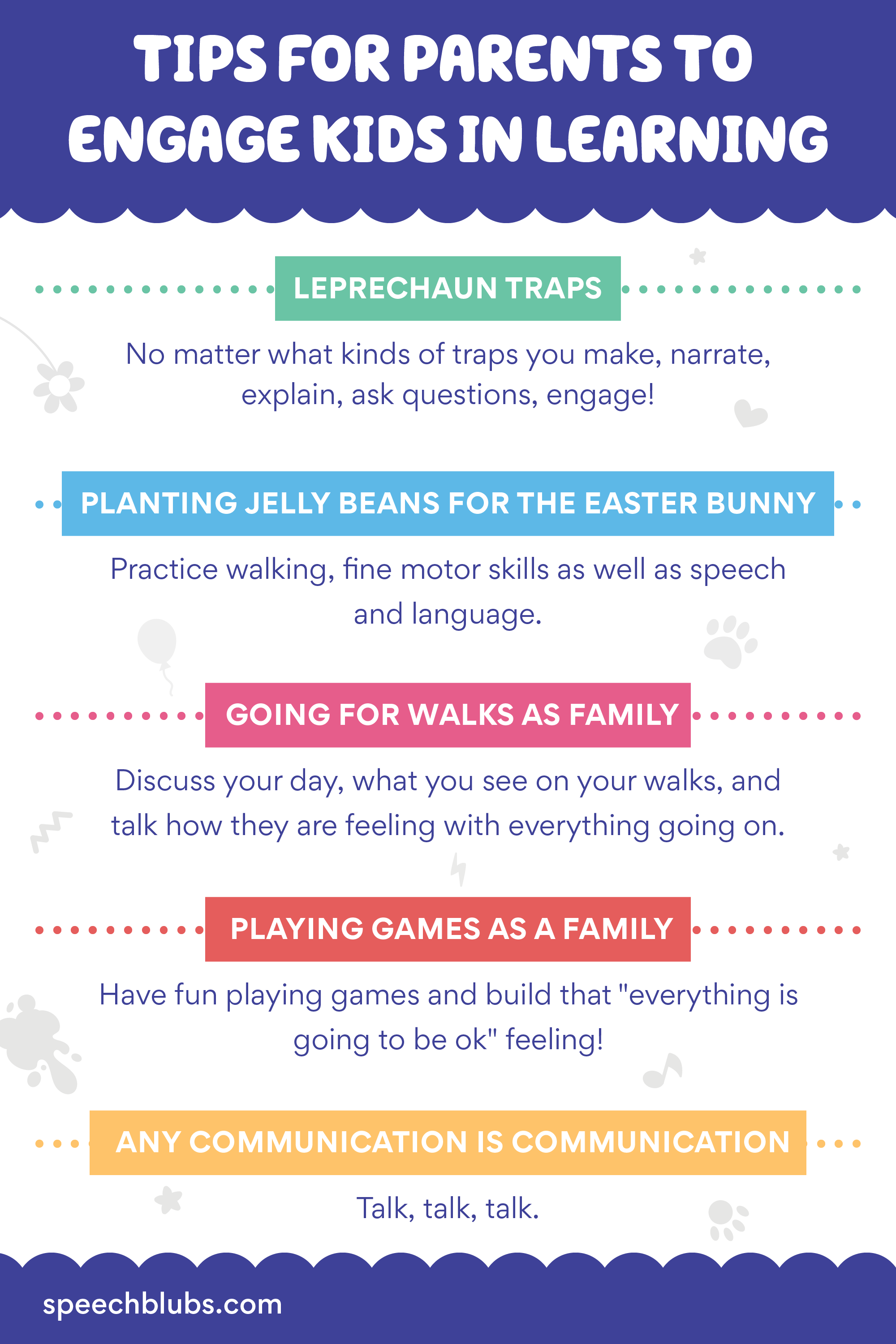 If St. Patrick's Day is over, don't worry! Kids will still appreciate doing crafts that are related to March and leprechauns.
Leprechaun traps are all the rage
You can use chocolate coins, Lucky Charms cereal, beads, or anything else you have in your house to build the traps.
If you are closer to Easter, then make bunny traps! Instead of chocolate, you can use carrot shavings or grass.
No matter what kind of trap you make, you want to make sure you are narrating anything you are doing to your child. Ask them questions, make them tell you colors and shapes. Explain the concept of big/small, in/out. If you're having them cut or color, show them the correct way to hold whatever item they are using in order to enhance fine motor skills.
Planting jelly beans for the Easter Bunny
Ok – so we did this with my daughter last year and she loved it! We did it about two weeks before Easter, which makes the timing perfect for this activity.
On a nice day, take a bag of jelly beans outside and have your child/ren bury the jelly beans in hopes they will grow into lollipops on Easter morning. While planting the beans, have your child dig a hole, put the bean in and put dirt back on top of it. Have them walk to different sections of the yard and repeat the activity. Don't worry – they won't remember where they plant them, so you can place the lollipops anywhere!
This activity will work on their walking (gross motor), fine motor (digging and planting), as well as speech and language. Have your child tell the different colors of the bean, what shape they are, what they feel like, and even what they taste like!
On Easter morning, have your kids collect the lollipops that "grew" from the beans. They can count the lollipops, tell you colors and try and guess where the bunny came from! If you don't want to dig, then just have them hide the beans under rocks, in bushes, or under trees.
Going for walks as a family
This might not seem like a super exciting thing to do, but right now, it will provide your child with a sense of normalcy and togetherness.
You can still work on speech and language skills because you can talk about how their days were, what they are seeing on their walk, what they learn from being homeschooled, and talk about how they are FEELING with everything going on (here's another blog on how to address this topic).
Boost Your Child's Speech Development!
Improve language & communication skills with fun learning!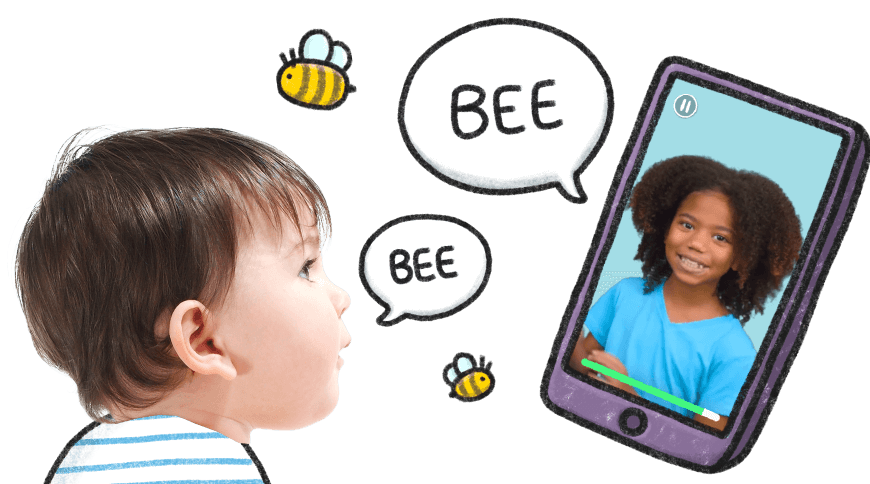 Playing games as a family
Another way to build that feeling of "everything is going to be ok!" Depending on your child's age, these games can be as simple as "red light, green light," "Simon Says," or matching games.
If your child is older, you can play any games that you have in your home. Make it fun! Order pizza, put on a movie, and play a board game!
Tips for Speech Therapists
I live in New Jersey and we don't allow for telepractice in our state. You can imagine this poses a huge issue when students are being provided instruction at home! Luckily, our district provides all students with school-issued computers, which is a way for us to communicate and provide therapy to the best of our abilities.
If you need information or worksheets in a pinch, we can share those with you!
The first thing I want to drive home is, do the best you can. We know that whatever you provide to your students, whether it's by email or through a program on the computer, does not even come close to what we can provide in our therapy rooms or classrooms. That is okay! We need to provide the best continuity of service that we possibly can at this time.
Any communication is communication. Email your students, send worksheets, fun activity suggestions to their parents, weekly check-ins OR work with their classroom instructions on what they are targeting in class. If they are comfortable working with you, I'm sure parents will accept any resources that you can provide for the kids. It's important to work as a team during this time!
I am constantly making different activities, so if you need specific information or worksheets in a pinch, please let us at Speech Blubs know and we can share those documents with you!
Everyone – remember, we will get through this! Everything will return to normal, eventually and this will be a gigantic learning experience for everyone in the world. Stay strong and be well!
Have a question for our Speech Therapists?