How to Promote Your Child's Speech and Language Development at Home
Feb 9, 2022 Hearing the first words from your child is such bliss. You fall in love with your child's voice that very moment, and it's like you can't get enough of it. You want to hear them speak over and over again.
It's as if your ears are constantly waiting to hear the most adorable voice in the world. But, with the joy of your child's first words, also comes the responsibility to help them with speech and language development. Shouldering this responsibility in the best way is certainly your deepest wish. Given below are some ways to promote your child's speech and language development at home.
Language Development with the Speech Blubs App
Speech Blubs is a speech therapy app with a vast library of more than 1,500 activities, face filters, voice-activated activities, and educational bonus videos. Start your free trial today and explore engaging activities your child will love and benefit from!
Boost Your Child's Speech Development!
Improve language & communication skills with fun learning!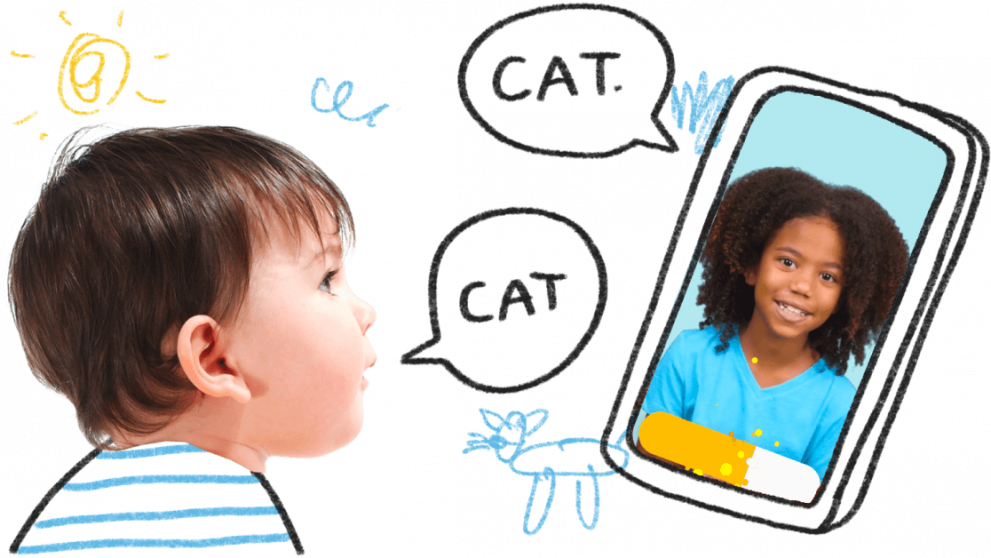 1. Listen and Repeat
Children love attention. They are always on the lookout for ways to attract your attention. Although all your attention is focused on them throughout the day, they just can't get enough of it. As a result, they keep doing things which help them attract your attention the most. So, by repeating what your child speaks, you can showcase your attention to their words in a heightened manner and stimulate them to speak more often.
2. Narrate Stories All through the Day
Your words inspire your child to speak. As you speak, your child also imitates you and tries to speak. So, it is vital for you to narrate stories to them all through the day. This implies that you should talk to them while feeding, bathing, and doing everything. Along with this, you can also share your childhood experiences with your child. You can tell him how they resemble you in appearance and their activities. You can also narrate some bedtime stories to them. So, make sure to collect different storybooks to read your baby to sleep.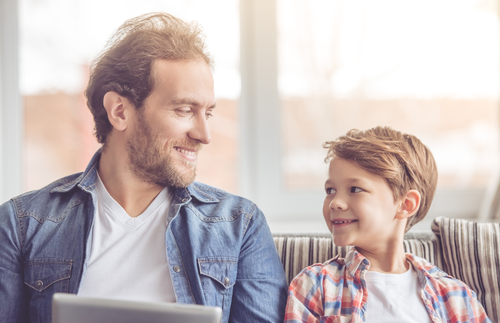 3. Do Loads of Talking
As discussed above, your words inspire your child to speak. So, it is advisable for you to do loads of talking to them. You can tell them about everything you do, why you do, and how you do such as cooking, washing dishes, and doing your office work. You can also tell them about your memories with your mother and share with them how you were as a child. Furthermore, you can also tell your child about your most memorable moments with them such as the day they came into your life, the day you saw their first smile, and the day they uttered their first word. As you do so, you'll notice that your child reacts beautifully through his facial expressions, hand gestures, eye movements, and also makes an effort to speak.
4. Sing to Your Little Angel
Singing to your little angels is a beautiful way of connecting with them. It is another way you can use the power of your words to nourish your child's speech and linguistic skills. You can sing songs to them, sing lullabies at bedtime, and also sing rhymes. Even more, you can also play audios of different rhymes, lullabies, songs, and sing-alongs for your child. While doing so, you should also try making use of hand gestures, different body postures, and actions to make your child comprehend your words at a visual level, too.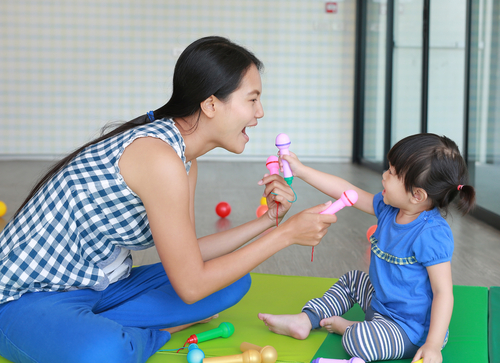 5. Mirror Effective Communication
In order to demonstrate the art of communicating with your child, it is best to mirror effective communication. For this, you can communicate with your family members in front of your child and involve them in the conversation. For example, while discussing with your family about what clothes to buy for your child, you can ask your little one questions like should we buy a shirt or a t-shirt? By asking such questions to your child, you'll make them learn the art of responding to others. This way, they'll make an effort to speak and participate in the conversation.
6. Bring Some Talking Toys Home
As parents, you are always excited about buying toys for your child as they enjoy playing with them. You can use their love of toys as a means to promote their speech and language development. For this, you just have to select talking toys for them. These toys will inspire your child to imitate them and speak along.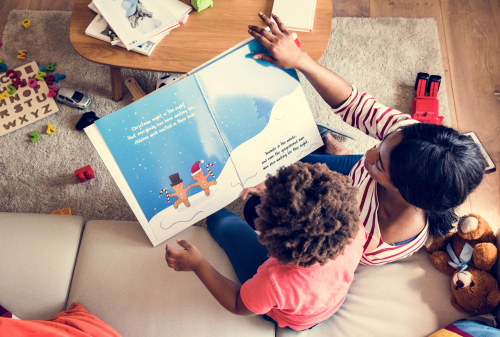 7. Gift Your Child Some Picture Books
Colorful things and cartoons attract children a lot and they love watching them. So, giving your child some picture book gifts is always an amazing thing to do. You can sit with them and let them explore their picture books. As they leaf through the pages, you can tell your child about what different pictures represent by building stories around them. By doing so, you'll not only help them with speech and language development but also promote their listening and response skills.
These are some ways you can promote your child's speech and listening skills at home. Furthermore, you can also experiment with any innovative ways of helping your child's speech and language development that come to mind.
Happy parenting!
Have a question for our Speech Therapists?