Kids and Proper Hygiene: All about Washing Hands in a Pandemic
Mar 19, 2020 We can do this, get through this, and even have fun with this. But take these steps and keep your and everyone else's family safe and healthy.
Staying home? Try the Speech Blubs app for fun and engaging language learning with your little one.
We are in a never-before experienced situation. Everybody is talking about the pandemic and washing your hands, but how to teach kids about it?
Let's start with what we know:
We are officially experiencing a pandemic, which is simply the global outbreak of a disease.
The source of this pandemic is the COVID-19 virus, or corona virus.
The way it spreads is through close human contact or transmission of respiratory droplets spread by touch, sneezing, or coughing.
The best way to avoid this virus is to limit or stop any contact with others.
We are realizing just how difficult this can be, because we still need to go to the store for groceries or to the doctor if we're feeling bad. That said, another way to protect ourselves is to wash our hands regularly.
The Center for Disease Control (CDC) recommends for washing your hands:
Wet your hands with clean, running water (warm or cold), turn off the tap, and apply soap.
Lather your hands by rubbing them together with the soap. Be sure to lather the backs of your hands, between your fingers, and under your nails.
Scrub your hands for at least 20 seconds. Need a timer? Hum the "Happy Birthday" song from beginning to end twice.
The most difficult thing for kids is to do is to avoid touching your eyes, nose, and mouth with unwashed hands. Please try very hard!
The other ways to prevent or limit the spread of this virus is to take steps to protect others, which include:
`
`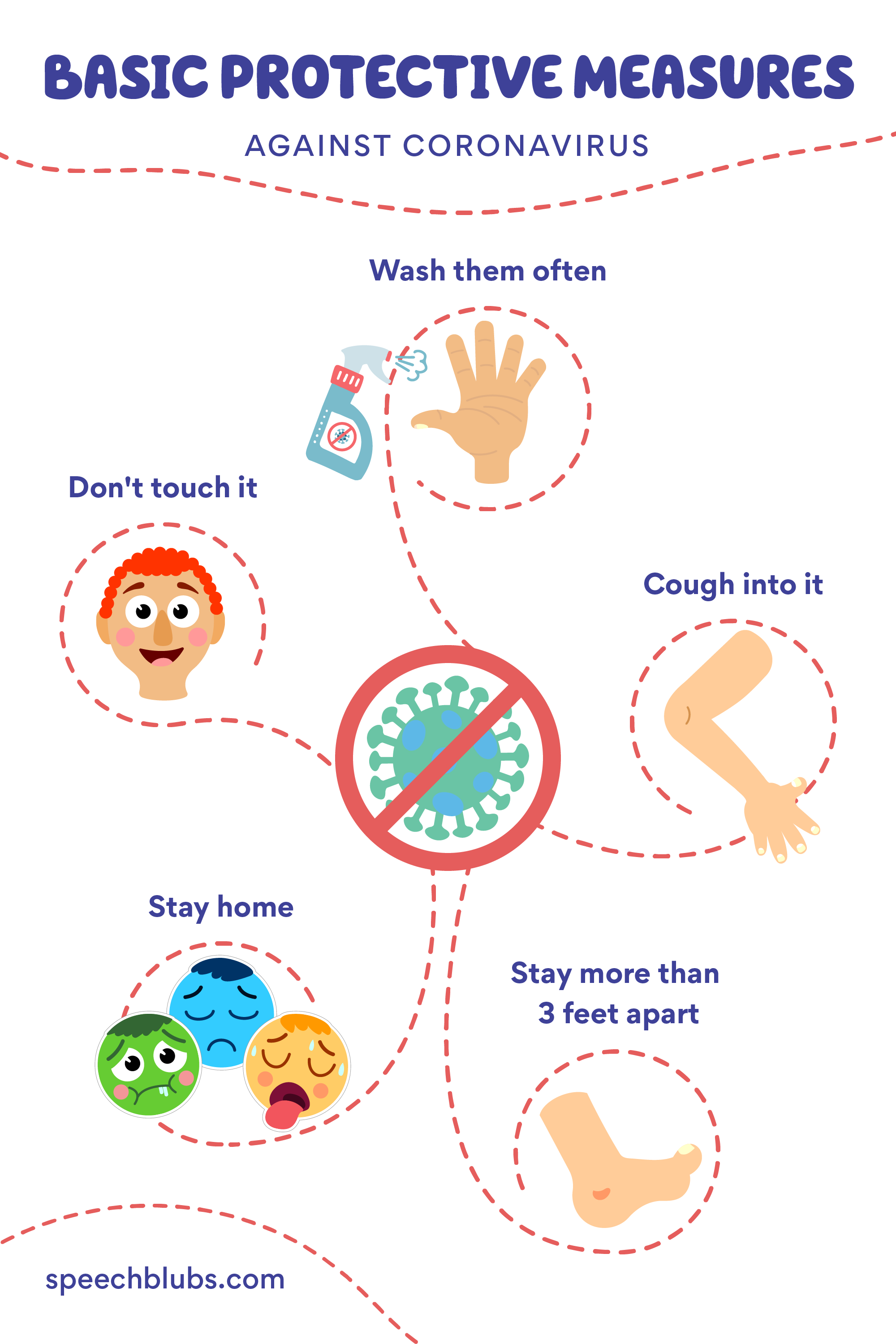 Stay home if you're sick
Cover coughs and sneezes
Immediately wash your hands with soap and water.
Wear a facemask if you are sick
We can do this, get through this, and even have fun with this. But take these steps and keep your and everyone else's family safe and healthy.
Speech Blubs App Helps Your Child Catch up!
Make sure to download the Speech Blubs app: available in App Store, Google Play Store, and on our website! Work on imitation and articulation skills, build vocabulary to express needs, and converse more! Set your personalised goals now and start learning.
Speech Blubs is a learning app for everyone: If you want to work on language development or your child has a speech delay, autism, Down syndrome, hearing loss, tongue tie, cleft palate, or Apraxia – kids find this app very helpful. More than 4+ million parents tried the app – see what they have to say about it.
You get free access to Parents Academy and educational videos about speech development in the app. You can even talk to our speech therapist if you have concerns! If you are still unsure, watch our free webinar with speech therapist Tori or join our Facebook Group for parents.
Have a question for our Speech Therapists?