We are Parents during a Pandemic - HELP!!!
Feb 4, 2022 When I first heard about this pandemic, I thought, "there's no way they are going to close down schools and keep us locked down." Boy, was I wrong.
I naively thought that this would only last two weeks and that people actually washed their hands. 🤯 None of this couldn't be further from the truth.
You see, my husband and I both work in a high school. I'm a speech-pathologist and he's an English teacher for sophomores and seniors. We both work at the SAME school, which is actually great.
When they closed schools in NJ, we knew that meant we'd be home full-time with our sassy three year old daughter and very fussy 10 month old son. What we never guessed is the parental guilt and tug-of-war we'd constantly be feeling between being a parent and working from home.
The First Few Days
Our daughter was just enrolled into Pre-K when this first happened and we felt an enormous responsibility to make sure she wasn't missing anything in her "education." I know she's only three, but the fear kept creeping into my mind that what IF we don't go back to work until next January? She'd have missed a whole year of school! Then she won't be prepared for Kindergarten…she'll fall behind her peers…she'll need an IEP…she'll live a life of constant struggle…
Dramatic…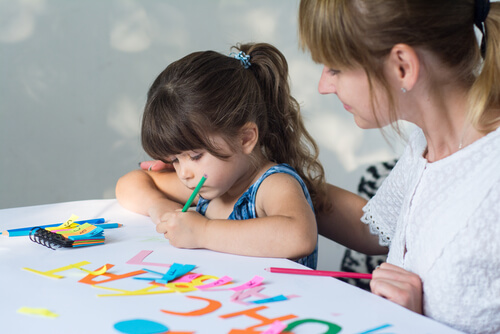 But really! I knew we needed to do daily lessons with her to make sure that she was getting some learning into while we were home.
Easier Said Than Done
So we started planning daily lessons. A is for Apple and then we'd trace the letters and do a craft related to that letter. Cute, right?
Cue, my son….
Our second child has been a very difficult one. Although extremely adorable and loving, he was colicky until 9 months and has been fussy every, single day. He needs to be attached to one of us and if he isn't moving, say a prayer because he will belt out his highest octave scream that his lungs will allow.
People always told us that our second child would be the most challenging, the one that would push us as parents and lead to many stressful moments. Yup, that's Nicholas all right.
While doing these crafts, Nicholas would start screaming or crawling up my leg. As soon as he would get up, he'd crash down, banging his head on the leg of the chair. You guessed it; he'd scream even worse now.
As I bend down to pick up Nicholas, Nora screams, "No mommy, you sit with me and color."
Boost Your Child's Speech Development!
Improve language & communication skills with fun learning!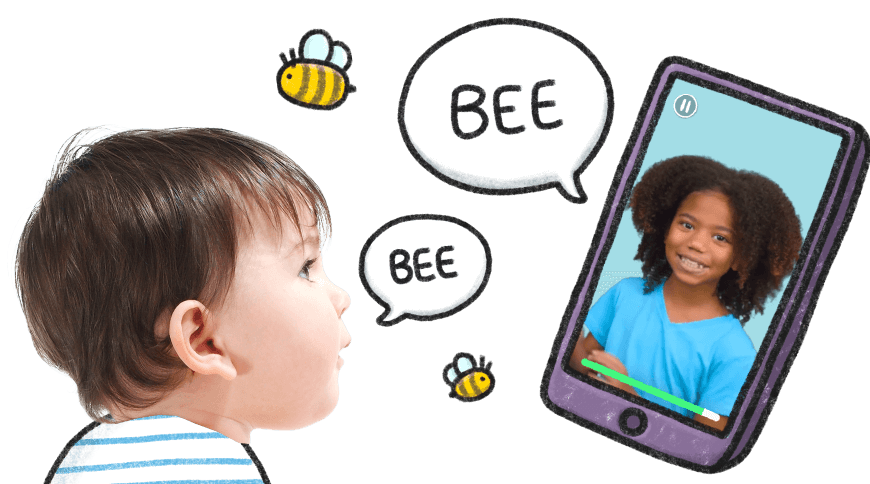 My attention was then divided and that terrible feeling of mom guilt crept in. I couldn't give Nora the 100% attention that she needed, even though I wanted to. Yet, I couldn't allow Nicholas to scream.
We then have to divide and conquer. One of us does the learning with Nora and the other keeps Nicholas entertained.
That's all fine and well until….
Work Meetings and Responsibilities
Being my husband and I both work at the same district, means we both have to continue doing our jobs while this pandemic is occurring.
Don't get me wrong – we are so thankful we both have jobs that continue to pay us so we don't have to worry about paying our mortgage and feeding our children. BUT we are constantly torn between spending valuable time that we will never get back with our children and doing the things that need to get done so that our students are provided with the things that they need to be successful academically.
We usually tackle this the same way we do everything else – one does work, while the other is with the kids. It's the only way we can survive. It's so hard and the amount of work that one of us can get done is minimal.
Do we let Nora watch more movies than we probably should? Yes. Do we stimulate them as much mentally as we should be? Probably not.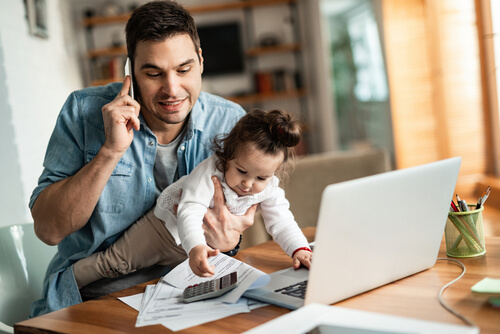 But we spend time with them. Playing, laughing, loving and learning – no matter how or when that learning takes place!
At the end of the day, our kids aren't going to remember the hour long activity about bugs that we created or the paragraph they had to write for English class. They are going to remember the time when mommy and daddy stayed home for a long time and made life fun.
Some Suggestions
These are some things that I've been doing to keep myself sane during the five weeks of working from home with the kids! It might not work for everyone, but i'm hoping it helps someone out there!
Take some time for yourself. I do a virtual crossfit class four days a week while my husband plays with the kids in another room.
Go for a walk – we take the kids for a long walk at least once a day if the weather permits. Of course, be careful and remain socially distant!
Do educational activities with chalk outside! Nora loves to play with chalk, so we get the kids outside and have her do letters and numbers that way!
Spend time with your partner when the kids are in bed. We ordered probably 10 board games from Target and play them every night. It's something different and allows us to spend some time together and actually talk!
Breathe! Nothing lasts forever, not even this. We will all get through this and will be better for it!
Zoom calls with the girls and guys. I have a once a month zoom call with my girlfriends and my husband does the same with the guys. Believe it or not, it truly helps!
Have a question for our Speech Therapists?