Temper Tantrums and Work at Home: A Foregone Conclusion?
Striking a balance between spending time with and nurturing your child, and being productive in your at-home job responsibilities is tough to achieve.
When junior gets hungry during your online meeting, it's very difficult to interrupt the speaker and take a break. As a result, children can have temper tantrums that send your blood pressure through the roof, and make working at home a challenge. This blog breaks down toddler temper tantrums, giving you a greatest hits version of all of our blogs on the topic in order to give you the tools necessary to survive this COVID-19 shut-down.
Are Tantrums and Meltdowns the Same Thing?
First, you should know what we're talking about. The first blog defines what toddler temper tantrums are, and how they differ from meltdowns. They are not the same thing. It also gives parents the signs for distinguishing between the two, and also some tips for dealing with them. Check it out:
It's Easy to Say, but DON'T Do These!
Your behavior is crucial for a child's learning how to deal with frustration, so how you respond in this stressful time will teach your children how to deal with pressure. Many times it's not just doing the right thing, it's what you don't do that can present a good role model for your child. This next blog deals with 10 things you shouldn't do during a toddler temper tantrum. Check it out:
Now You're Ready, DO These!
Because we care, and because many people want directions about things they can actually do, this next blog gives a look at how to be a loving caregiver instead of an impulsive, reactive three-headed momster. And just to show understanding we are, here are 11 tips for dealing with toddler temper tantrums (one more). Check it out:
A Parent's Tantrum Survival Guide
This next blog is kind of a one-stop tantrum-dealing station. It starts with temper tantrums by different ages of children, then goes on to the types of tantrums, then also the triggers for tantrums, and finally more tips for getting through those difficult, inconveniently timed spazz-outs. Check this blog out:
By now, if you've read all of these blogs you are well on your way toward smoothly, gently, and expertly dealing with any flare-ups that your child has while you work at home. Hang in there, you can do this.
Just remember, there are no winners or losers, and you shouldn't take tantrums personally. They just mean your child needs something, can't get it, is frustrated about communicating it, and needs an audience to see and respect that need. One step at a time. Good luck.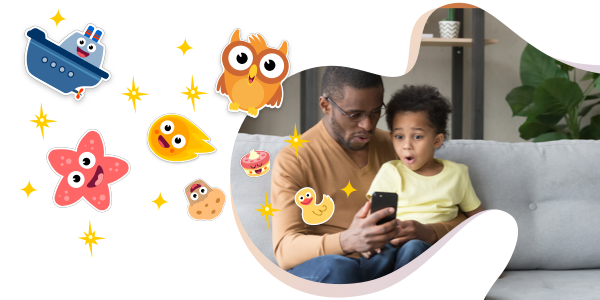 Speech Learning At Home
Hours of guided smart screen time to find a balance between remote work and taking care of your children!