Setting Realistic Therapy Goals
Jan 16, 2022 If your child is seeing a speech therapist, or even if they're engaging with the Speech Blubs app on their own, you'll quickly realize the importance of setting therapy goals.
This is especially true if you are collaborating with your child's speech therapist, as it will allow you to monitor your child closely so that you can give the speech therapist specific feedback which they can use to tailor your child's speech therapy goals.
The key to your child's success is realistic goal-setting using achievable expectations. This article is going to show you how you can do that and how to modify these goals regularly, depending on your child's progress.
Boost Your Child's Speech Development!
Improve language & communication skills with fun learning!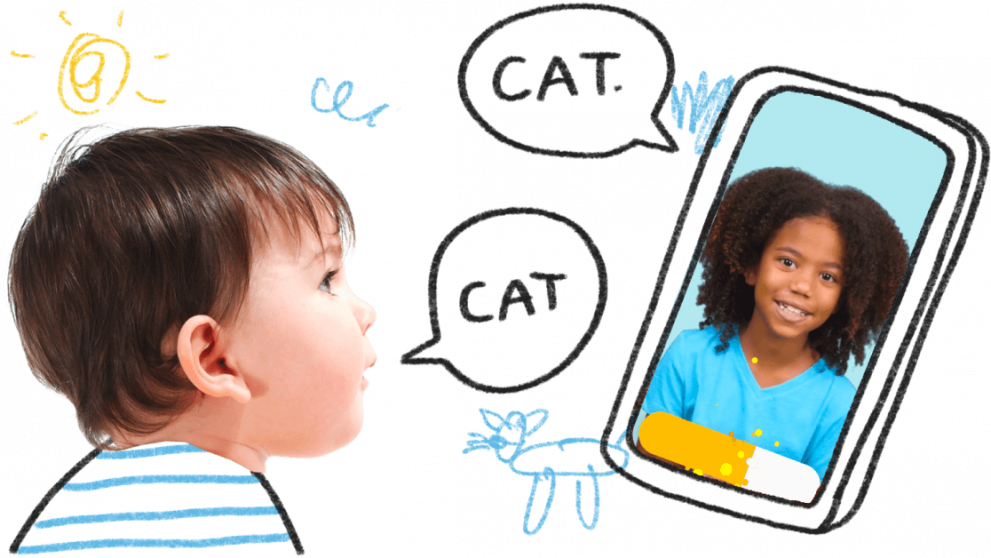 The Ultimate Goal of Speech Therapy
So, your child's receiving speech therapy, but what's the ultimate goal? Simply put, the main goal of speech therapy is to improve your child's communication. However, the "how" and "why" of this process will be specific to your child and the areas of difficulty they are experiencing.
You'll find that your child's speech therapy goals will likely fall under one, or a combination, of the following categories:
Your child's outcomes, and the speed of their success, will be totally unique to them, and the challenges they experience will be directly related to their abilities. Therefore, the duration of speech therapy is usually determined by:
Is Goal-setting Really That Important?
Absolutely! Being able to express themselves is of paramount importance to your child's development and identity – as it is to all of us. So, by setting realistic speech therapy goals, you'll help your child achieve all the benefits that come with being able to communicate clearly, such as having:
Fluent speech
Improved vocal quality
Clear speech
Age-appropriate language abilities
The ability to understand and express thoughts, ideas, and feelings
Better listening skills
Better pre-literacy and literacy skills
Better school readiness skills
Greater self-esteem
Increased independence
SMART Goals are the Best Speech Therapy Goals
Before you start making goals tailored for your child, you need to understand that your goals have to be SMART. This means that they have to be specific, measurable, achievable, relevant, and timely. How else are you going to know if your child's improving?
| | | |
| --- | --- | --- |
| S | Specific | Write clear, concise goals |
| M | Measurable | Track your child's progress |
| A | Achievable | Set challenging, but attainable goals |
| R | Relevant | Set goals specific to your child's therapy needs |
| T | Timely | Goals must have a realistic end date |
Explanations are always better with examples, and we can use the example of John, a boy with several articulation errors who needs quite a bit of intervention at home and in therapy
All his mother wants is for "his speech to come right." Now, I don't know about you, but that's certainly not an informative, realistic goal that will allow John to progress in therapy. His mother has to be much more specific, and so the best way for parents (and therapists) to create therapy goals that are geared towards helping children succeed and accelerate their progress in therapy is to make sure that they are SMART goals.
Having said that, SMART goals themselves can even be a bit vague, so here's a foolproof formula that both speech therapists and parents can use to ensure a child's success:
You start by establishing when you want the goal to be achieved by,
The specific goal itself,
Where and when your child will implement that goal,
How you will measure your child's progress in achieving that goal,
The accuracy level that you'd like your child to have,
The type of support you are willing to provide while still being supportive.
To break it down, it will look like this:
| | | |
| --- | --- | --- |
| By (time frame) | Set a date for when you think the goal can be realistically achieved. | By the end of two weeks of speech therapy and home activities. |
| John will (goal) | Name the specific skill that you want your child to achieve in that time. | John will be able to say the /b/ sound at the beginning of words. |
| In (setting/context) | Say where this goal will take place and be measured. In therapy? At home? In class? Spontaneously? | In speech therapy and home activities. |
| As measured by (assessment) | State how you will track and measure your child's progress. | As measured by his speech therapist and me. |
| With (accuracy level) | Indicate how accurate you'd like your child to be to achieve this goal. | With 80% accuracy. |
| And (supports) | Describe the kind of support you child will need to help them achieve their goal. | Occasional prompting from his speech therapist and myself. |
At the end of this process, you have your goal!
By the end of two weeks of speech therapy and home activities, John will be able to say the /b/ sound at the beginning of words, in speech therapy and home activities, as measured by his speech therapist and me, with 80% accuracy, and occasional prompting from his speech therapist and me.
Remember…
This is a lot to take in, but the benefits your child will reap make it well worth the effort. Integrating your child's speech therapy goals into their everyday lives in a functional way gives meaning to their communication, and also provides you with a chance to bond with your child while taking a direct approach to their development.
You always have an ally with Speech Blubs. Work on some of our fantastic communication-centered activities to help you and your child reach their speech therapy goals!
Have a question for our Speech Therapists?